Redskins Roll Past Emporia in Home Opener
Brock Kappelmann - September 9, 2023 6:54 am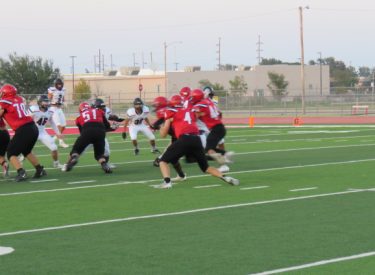 For the first time since 2019, the Liberal Redskins are 2-0.  Friday night in the home opener at the Gary Cornelsen Sports Complex, the Liberal Redskins throttled the visiting Emporia Spartans 47-14.  J. Brooks Kappelmann threw three touchdown passes the rushed for three more in the win.
The Redskins scored on their first play from scrimmage.  Brooks Kappelmann found Zayden Martinez on the Emporia sideline.  Martinez raced down the sideline for a 79 yard score at the 9:02 mark.  The point after failed.  Kappelmann and Martinez connected on an 84 yard touchdown over the middle with 6:21 to play in the quarter.  The two point attempt failed.  Kappelmann's 44 yard run into the southeast end zone made it 18-0 with 2:17 to go in the first.  Liberal led 18-0 after one.  Kappelmann's one yard run at the 4:22 mark of the quarter made it 24-0 as the two point attempt failed.  Adan Mata intercepted an Emporia pass with 24 seconds left in the half.  The Redskins led 24-0 at halftime.  Kappelmann picked up where he left off in the second half with a 29 yard touchdown run to lead 30-0 with 8:44 to play in the third.  Emporia quarterback Sheldon Stewart found Cooper Rech over the middle for a Spartan score with 1:33 to play in the third to make it 30-7.  Xavier Porras raced 38 yards for a score to lead 37-7 after the point after by Marco Alonso to lead 37-7 with 22 second left in the third.  Kappelmann scrambled left and lofted a twisting touchdown pass to Zayden Martinez with 10:55 to play for the 44-7 lead after the point after.  Marco Alonso kicked a 25 yard field goal with 4:58 to play to lead 47-7.  Stewart's eight yard TD run gave Emporia a second score with 1:56 to play to make it 47-14.
Liberal had 616 yards while Emporia had 323.  Liberal rushed for 348 yards and passed for 268.  Brooks Kappelmann rushed for 137  yards on 11 carries and was 7-14 passing for 268 yards.  Xavier Porras rushed for 115  yards on 10 carries and a score.  Zayden Martinez caught three touchdown passes totaling 206 yards Friday night.  Adan Mata and Xavier Tafoya had eight tackles a piece. Erek Lira had a sack.
Emporia is 0-2 and Liberal is 2-0.  The Redskins play Thursday night at Topeka at 7pm with 6pm Redskin Pre-game on 1270 and 92.3.