Redskins Roll Late to Bury Buffaloes
Brock Kappelmann - October 7, 2017 7:58 am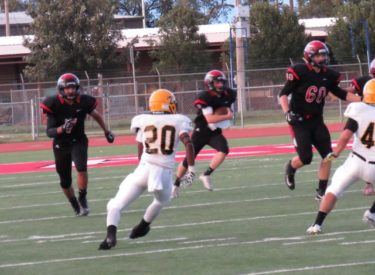 The Liberal Redskins found themselves in a tussle most of the game Friday night at the Gary Cornelsen Sports Complex.  But Liberal prevailed handily 42-20 over the visiting Wichita Southeast Buffaloes. It was a senior night played with warm and windy conditions for most of the first half until a cold front pushed through and actually blew a soccer goal on the field just before halftime.  The game also included a 30 minute lightning delay and ended after 11.
Southeast led 6-0 at half time after forcing two LHS turnovers.  Tarik Adkins tossed a 43 yard touchdown pass to Za'tez Dunn for the 6-0 lead.  Tyrique Chandler blocked the PAT.  The Redskins outgained SE in the first half but trailed because of turnovers and penalties.  Liberal's first half highlight was a Braxton Hyde interception on a fake punt.
With the wind gusting out of the north, LHS forced Southeast to punt against the wind and spotted the ball at the Southeast 18.  Two plays later, Syris Dunlap took it in from 14 yards out and scored the two for an 8-6 lead with 9:29 to play in the third.  That's when a lightning delay of 30 minutes stopped play.  When the teams returned, Atkins hit Ollie McGee for a 38 yard touchdown pass and converted the two points conversion for a 14-8 lead.  Jesse Alverado's interception changed the momentum as he picked off a pass and raced to the 14 of the Buffaloes.  Cesar Burciaga's scored tied the game and the two point conversion failed.  Alverado picked off another pass leading to a Dunlap 57 yard touchdown with nine seconds to play in the third for a 21-14 lead.  Elwin Trejo recovered a fumble as Southeast continued to fall apart.  Dunlaps twisting 37 yard scored made it 28-14 with 10:59 to play.  Isiah Witherspoon's four yard TD made it 35-14. Freshman Alex Esparza rushed up the middle for a score to make it 42-14.  Adkins found Tyrone Jackson for a two yard score to make it 42-20.
Syris Dunlap rushed for 236 yards tying him for seventh all time in Redskin single game history with Lamar Chapman who had 236 yards in a game against Great Bend in 1994.  Witherspoon spelled the injured Alan Marquez and rushed for 71 yards.  LHS forced four turnovers and committed two of their own but none in the decisive second half.
LHS is 4-2 and Southeast is 1-5.  Liberal plays at 4-2 Great Bend Friday night at 7 with Redskin Pre-game at 6 on 1270 and kscbnews.net.