Redskins Rally Past Holcomb in Opener
Brock Kappelmann - September 2, 2023 7:07 am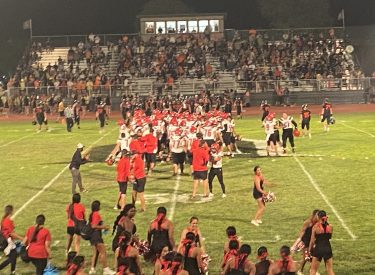 Things did not go according to plan.  But the final seconds made an otherwise arduous night all worthwhile. Digging a 14-0 hole, the Liberal Redskins dug out for a comeback 23-17 win at Holcomb Friday night.  LHS quarterback J. Brooks Kappelmann found receiver Zayden Martinez for a 20 yard touchdown over Zayden's back shoulder with 18.6 seconds left to take the lead.
Liberal's offense sputtered in the first half.  They were unable to develop a running game and missed multiple open opportunities to score.  However, the Angry Red defense held the Longhorns in check.  It was scoreless after one quarter.  Holcomb's Manny Reyes ran down the left side for the game's first score.  The point after made it 7-0 with 7:50 to play in the second quarter.  Holcomb's Korbin Johnson intercepted a Liberal pass for the 14-0 lead in the second quarter.  Liberal's passing offense finally went to work.  Kappelmann lofted a 41 yard pass to Zayden Martinez in front of the Holcomb sideline.  Kappelmann followed that with a 24 yard pass to Aidan Schwindt to give the Redskins first and goal.  Kappelmann's two yard TD run made it 14-6.  Liberal got the two to make it 14-8 with 3:39 to play in the third.  Liberal forced a third and long on the next possession and Adan Mata intercepted a pass for a touchdown.  Marco Alonso's point after made it 15-14 LHS with 1:44 to play.  On Holcomb's next possession, Adan Amador intercepted a a pass with 10:35 to play in the game.  But Liberal's offense went three and out.  Holcomb marched down the field and kicker Emmanuel Anguiano kicked a 19 yard field goal for the 17-15 Longhorn lead with 3:31 to play.  Liberal began the game's deciding drive on their own 32.  Kappelmann's scramble on 4th and six was one of the key plays in the drive.  Kappelmann's back shoulder throw to Zayden Martinez on the Redskin north sideline made it 21-17.  LHS got the two point conversion.
After they were -11 in turnover ratio last year, Liberal was +2 on Friday night.  That was key as yardage was nearly identical between the two teams.
Tyren Holmes was named Epic Touch Player of the Game for his dominance in the middle of the Angry Red Defense.  Liberal had 303 yards and Holcomb had 263.  Liberal passed for 178 yards and rushed for 125 yards.  Brooks Kappelmann had 19 carries for 100 yards and a touchdown. Kappelmann was 11-23 for 178 years with a touchdown and an interception through the air.  Zayden Martinez had 4 catches for 100 yards and a touchdown.  Xavier Tafoya had 10 tackles.  Tyren Holmes had four tackles and Hudson Rice had  four.  Both had two tackles for loss.  Adan Mata had six tackles and an interception. Andy Nguyen had eight tackles.   Marcus Alonso had a sack.
Liberal hosts Emporia Friday night at 7pm at the Gary Cornelsen Sports Complex.  Redskin Pre-game at 6pm on 1270 and 92.3.