Redskins Rally for Win at Great Bend
Brock Kappelmann - October 9, 2020 11:23 pm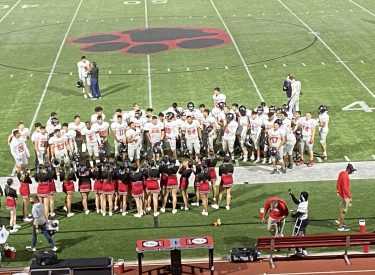 The Liberal Redskins scored 14 unanswered points in a 22-14 win at Great Bend Friday night.  The Redskins got three touchdown passes from Shay Kerr and Izzy Garcia-Rotolo caught two touchdowns to help spoil Great Bend's homecoming.  The Angry Red also overcame the adversity of losing linebacker Trystian Jurarez to a leg injury early in the game. Starting strong safety Adrian Zuniga was injured late in the first half.
The Panthers used a nine play 68 yard drive to score on their first possession.  Great Bend's Gavin Haberman ran 23 yards for a touchdown with 8:02 to play in the first quarter.  The Skins answered when Shay Kerr found Malcolm Wiltshire who scissored through defenders on a 3rd and 9 for a 19 yard score.  Kerr hit Garcia-Rotolo on a quick slant for the two point conversion.  It was 8-7 Redskins with 1:44 to play in the first quarter.  Great Bend's Brody Tracy recovered a Liberal fumble late in the first quarter.  Great Bend quarterback Joseph Moeder found Paco Hernandez on a three yard touchdown on 4th and goal from the three.  The PAT gave the Panthers a 14-8 lead with 6:18 to play in the half.  The Panthers Braylon Council intercepted a Liberal pass with 2:56 to play on the half.  Malcolm Wiltshire gathered in his fourth interception of the season with 5.9 seconds remaining in the half.  Great Bend led 14-8 at halftime.
Neither team scored in the third quarter.  Easton Zapien tipped a Great Bend pass into the arms of Hunter Huskey who raced into the end zone.  It was called back due to a Liberal block in the back.  The Redakins were unable to score.  With 7:14 to play, with Panthers bearing down on him, Shay Kerr lofted a pass into the hands of Garcia-Rotolo for  13 yard touchdown.  Kerr's successful two point conversion to Huskey made it 16-14 Angry Red.  With 2:21 to play, Kerr hit Garcia-Rotolo for a 37 yard score and a 22-14 lead.  Liberal's two point attempt failed.   A let Cameron Snodgrass sack helped LHS get a stop on Great Bend's final possession.
Great Bend had 278 yards of offense and LHS had 254.  Zapien ran for 116 yards.  Jose Beltran was named Epic Touch Player of the Game as he moved from corner to linebacker for the injured Juarez and chased Great Bend skill players all over the field.  Turnovers were even at two a piece.
Liberal is 2-4 and finishes 2-2 in the WAC for the first time since 2017.  Liberal wins for the second time in three games at Great Bend.  Great Bend is 0-5 and 0-3 in the WAC.  Liberal play at 4-1 Kapaun Friday night at 7 with Redskin Pregame at 6 on 1270 and kscbnews.net.