Redskins pound Kapaun, State is next!
KSCB News - March 8, 2009 12:00 am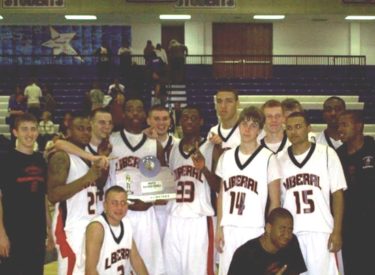 The Liberal Redskins are headed to Topeka for a second straight year beating Kapaun 58-45 Saturday in Winfield. The Sub-state Championship win was the 17th of the season Skins who will play Thursday in a first round 5A State Game. The Lady Redskins will play Wednesday and will be the number one seed in the tourney. They beat Kapaun 61-37 Friday to qualify for state for the first time since 1998.
Syracuse will once again go to state in 2A. Syarcuse beat Meade for a third staight year 53-51 to earn their shot. Holcomb will go to 3A state in Hutchinson. The Longhorns beat Southwestern Heights 73-52 Saturday night in Holcomb. SWH finished the year with a 18-5 record.
In girls play. Elkhart will travel to Hays and 1A state after beating Sublette 51-35 Saturday night.
In 3A, The Lady Mustangs trounced previously unbeaten TMP 57-39 to qualify for state. The Lady Mustangs are 22-1 on the year.