Redskins Overcome Attrition and Eagles in Overtime
Brock Kappelmann - January 26, 2019 7:51 am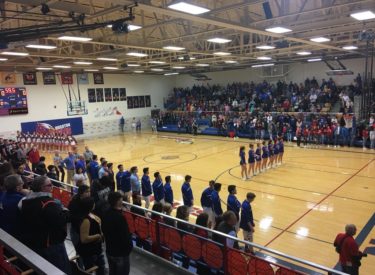 Playing without Lee Hatcher for the rest of the season and after having three players foul out, the Liberal Redskins needed all hands on deck.  And it took all of them for the Skins to outlast the Hugoton Eagles 62-61 in overtime Friday night in front of a packed house on homecoming in Hugoton.
The Redskins, much like the Abilene game six days ago, got off to a good start.  They led 14-6.  But Hugoton used a 19-6 run to lead 25-20 before a Jordan Mendoza three pointer made it 25-23 at half.  The Eagles soared to a 35-23 lead with a 10-0 run to begin the second half.  Then the Redskins went on their best run of the season of 22-0 to lead 45-35 in a run which encompassed about six minutes.  LHS led 47-40 before the Eagles crept back to 47-45.  LHS led 49-47 with 2:15 to play and 51-47 with 1:39 and 1:03 to play.  Hugoton's Haden Daharsh swished two free throws with .9 seconds left to tie the game and send it to overtime.  Braxton Hyde banked in a shot from the right on a feed from Brody Sumner to make it 57-56 LHS with 1:25 to play in OT.  Hugoton built a 59-57 lead before  Hyde nailed a left wing three pointer to give Liberal a 60-59 lead with 40 seconds left.  Jordan Mendoza sunk a pair of clutch free throws to make it 62-59 LHS with 13.7 seconds left.  Hugoton scored a lay up but time ran off and the Redskins ran off with a thrilling 62-61 win in a game which ended at 10:13 PM.
Brody Sumner scored 16 in the win.  Hunter Hatcher had 14.  Jordan Mendoza and Braxton Hyde had 13 a piece.  Syris Dunlap's defense against Hugoton's Carlos Montiel was key to the LHS comeback.  Dunlap, Hatcher, and Alex Lopez fouled out of the game.  For Hugoton, Carlos Montiel had 14.  Damian Lewis had 12 and Michael Mirabal had 10.
Hugoton scuffled at the foul line going 20-36 while Liberal was 18-26.  LHS was 10-27 from three.  The Eagles were 3-15 from three.
Liberal is 7-5 and Hugoton is 7-4.  Liberal has won four straight against the Eagles who last defeated the Redskins in Colby in 2013.  The Redskins play at Great Bend Friday night at 7:45 and Hugoton hosts Ulysses Tuesday.