Redskins Overcome Adversity in Win Over Garden City
Brock Kappelmann - September 16, 2022 7:20 am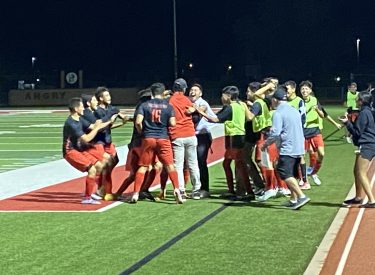 It was an emotional win for coach Carlos Ruiz and the Liberal Redskins.  The second year head coach looked on with pride as his team celebrated with the Redskin fans in the west bleachers of the Gary Cornelsen Sports Complex.  That's after his team had lost three games to quality teams Maize, Wichita Northwest, and Dodge City.  His team overcame an hour and a half lightning delay.  And they overcame three penalty kicks and survived a game which included 11 yellow cards, six of which were against the Redskins.  Liberal played 36 minutes and 10 seconds of the second half shorthanded due to a red card.  But despite all that, the Redskins handed the Garden City Buffaloes their first loss 2-1 Thursday night at Redskin Field, in a game which finished after 10pm.
The game had emotion and energy from the start.  Liberal goalie Gael Ruvalcaba denied a Garden City first half penalty kick and it was scoreless at halftime.  Much of the first half was played in a light rain.  A beautiful Suain Moncayo direct kick from about the 20 yard line gave Liberal the 1-0 lead at the 38:09 mark.  Shortly thereafter, Liberal received a red card and Garden City tied the game on a PK at the 36:10 mark.  Giovanny Reyes headed in a goal with 9:50 to play to give the Skins a 2-1 lead with 9:50 to play.
Liberal is 2-3 and 1-1 in the WAC.  Garden City is 4-1.  The Redskins play at Lamar in Thursday.