Redskins Outlast Ulysses in Opener
Brock Kappelmann - September 2, 2017 8:03 am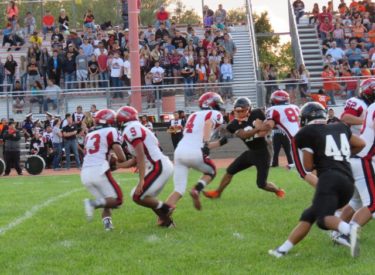 It was worth the wait for the Liberal Redskins.  In a game that finished near 11:45 and included a two hour weather delay due to a thunderstorm, Liberal defeated Ulysses 21-12 at Maxwell Field in Ulysses Friday night.  Liberal wins their opening game for just the third time since Gary Cornelsen left Liberal.  It's a win in 1994 LHS graduate Jason Dunlap's first game as head coach.  The Redskins won despite over 100 yards in penalties.
Ulysses scored first as LHS went three and out and then "shanked" a punt with Ulysses beginning their possession on the LHS 38.  UHS quarterback Zac Anderson finished the drive with a five yard score.  Tyrique Chandler blocked to point after so it was 6-0 Tigers with 7:21 to play in the first.  Liberal drove the ball down the field effectively the next possession but had two touchdowns called back due to penalties.  Javian Bencomo picked off a pass with 13.9 seconds remaining in the first quarter.  Liberal got a stop on fourth down at the 6:23 mark.  Liberal got another stop when Kris Workman intercepted a pass and took it to the Ulysses 23.  Syris Dunlap found Jett Brown for a seven yard touchdown pass to tie the game at 6-6 on a clutch fourth down play.  Liberal went for two and didn't get it.  Workman recovered a fumble to end the first half tied 6-6.  As the teams were getting ready to kick off the second half, play was halted for a two hour weather delay.  Ulysses drove the ball on LHS their first two possessions of the second half but did not score as they missed a 26 yard field goal and Liberal stopped them on an incomplete pass on the other possession.  Dunlap's 19 yard slant to Josh Arafol set up Dunlap's two yard sneak for a score with 10:38 to play.  Liberal went for two and Jett Brown reached behind him for a fine catch for two to make it 14-6.  Dunlap's 23 yard touchdown run on a fourth down play and the Burciaga point after made it 21-6 with 1:50 to play.  Ulysses backup quarterback Devin Walker tossed a touchdown score to Sloan Hayden with 1.5 seconds left and the game.
Liberal scored two touchdowns on fourth down while Ulysses was 0-3 and missed a short field goal.  Ulysses had 278 yards and Liberal had 270. Alan Marquez rushed for 141 yards which including a nifty 60 yard run.  Dunlap rushed for 78 and passed for 49 in the win. It's Liberal's first win over Ulysses since a 56-41 win in Ulysses in 2010.  Liberal hosts Guymon Friday night at 7 at Redskin Field.  It is a red out and shirts at Golden Plains Credit Union will get you in the game for free.