Redskins Hold Ulysses Hitless in Sweep
KSCB News - March 30, 2016 7:10 am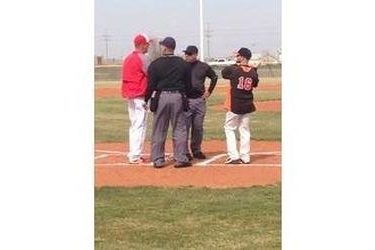 Count 10th year LHS head baseball coach Eric Olmstead as impressed. The Redskins made quick work of a veteran Ulysses bunch 15-0 in three innings and 16-1 in four innings. Liberal's pitching did not allow a hit in seven innings.
In game one, Cole Evans pitched three nearly perfect innings issuing one walk and striking out seven. Jared Hasik is 2-2 with a double and four RBI's. Sylman Pando was 2-3. Stevie Lira was 2-2 with an RBI. Alex Carrillo was 2-3 with two RBI's. LHS scored one in the first, four in the second, and 10 in the third.
In game two, LHS won in four innings. Tucker Deaton pitched three innings without allowing an earned run. Hasik tossed a scoreless inning. Evans blasted a three run home run over the left field fence. He was 3-4 with a homer, two doubles, and four RBI's. Timothy Fitzgerald was 4-4 with four RBI's. Kaiden Long was 3-3 with a double and two RBI's. LHS scored four in the first, five in the second, 10 in the third, and one in the fourth to end the game.
Liberal is 4-0 and Ulysses is 0-4. LHS plays their WAC opener at Great Bend Tuesday at 4 with Redskin Pre-game at 3:45 on 1270 and kscbnews.net.