Redskins Ground Eagles in Baseball Opener
KSCB News - March 27, 2015 6:49 am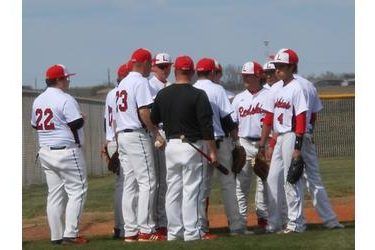 Liberal opened their baseball season with two dominant wins over a young Hugoton team Thursday. Liberal handled Hugoton 8-1 and 18-1 in three innings at the Liberal Baseball Complex. Cole Evans celebrated his birthday in style winning game one on the mound and driving home seven runs.
In game one, Liberal started strongly scoring three in the first and three in the second. They added single runs in the fourth and fifth. In the first, Cristian Erives singled home Sylman Pando. Cole Evans tripled to center driving home Jared Hasik and Erives. Hugoton struggled on the mound in the second walking in three runs. In the fourth Evans singled home Kaiden Long and Hasik singled home Jacob McCarter in the fifth. Evans pitched five scoreless innings striking out seven and allowing four hits. He was 2-2 at the plate with three RBI's. He also sparkled defensively picking off two runners and beginning a 1-5-3 double play. McCarter was 2-3.
Game two was a whitewash. The Redskins scored 13 in the first inning on seven Hugoton walks, three Hugoton errors, and five hits. Liberal addded five in the second. HHS pitchers walked nine and the Eagles had five errors in two innings. The Redskins scored 18 runs on just eight hits. Evans was 2-2 with four RBI's. Long was 1-1 with an RBI double. Tim Fitzgerald made a great diving catch in left center in the win. Hasik pitched two innings allowing a run and Long pitched a scoreless third in a three inning game due to run rule.
Liberal plays at Ulysses Tuesday for a double header.