Redskins Falter in the Fourth
Brock Kappelmann - January 13, 2021 7:14 am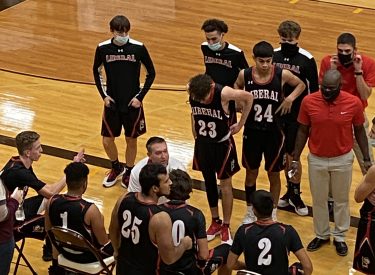 It was a 42-42 game with seconds remaining in the third quarter before Garden City would dominate the fourth quarter to beat LHS 71-54 Tuesday night at the Garden.
The was a tight game for three quarters as the Buffaloes led the Redskins 16-14 at the end of one and 34-29 at the half.  Garden City led 45-42 after three.  The Buffaloes finished the game on a run of 29-12.
Embry Williams scored 22 in the loss.  Malcolm Wiltshire added nine.
Liberal was 4-16 from three point range and 10-17 at the free throw line.  The Buffaloes made 5-12 from three and 13-18 at the foul line.
The Redskins are 2-5 and 0-3 in the WAC.  They had lost three straight.  Garden City is 1-2 and 1-1 in the WAC.