Redskins Fall in Overtime to Hays
Brock Kappelmann - September 21, 2019 7:38 am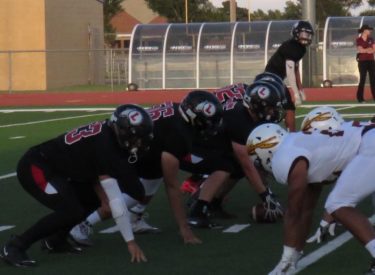 Liberal did something they haven't done in decades Friday night.  They played an overtime game.  But otherwise, it was just another year of Hays heartache.  One year after a 21-20 loss at Hays, LHS lost 13-12 in overtime to Hays Friday night at the Gary Cornelsen Sports Complex.
This was obviously a defensive struggle as neither team reached the 300 yard plateau offensively.
The wind out of the southeast was a factor early.  Liberal faced the wind in the first quarter.  But on a 3rd and 21 Syris Dunlap found Braxton Hyde to a 67 yard pass to the Hays 20.  But LHS did not gain another yard on the drive.  The LHS defense made a fourth down stand on the first Hays possession with 3:27 to play in the first.  Sergio Chavez recovered a fumble but Hays returned the favor as Dawson Vonfeldt intercepted a Dunlap pass.  Jose Beltran recovered another Hays fumble.  Hays finally moved the ball late in the half after an injury to Israel Avalos.  Hays sophomore Dylan Dreiling lofted a 21 yard play action pass to Hayden Brown for the score.  Brown is the son of former Liberal great and current Fort Hays State head coach Chris Brown.
Liberal's Alex Esparza intercepted a pass early in the second half.  Esparza was active all night at linebacker.  Esparza was inserted at tailback and ran it in from 11 yards out with 6:01 to play.  Liberal missed the extra point.  The game was tied 6-6 and went to overtime.  Hays had the ball first from the 10 in the north endzone.  On fourth down Dreiling found Brown in the back of the endzone for a score.  They kicked the PAT.  Liberal scored on two plays.  Esparza carried it in from five yards out.  Liberal went for two and the win but Hays stopped Esparza short.
Hays defeats Liberal for the 10th time in 11 tries.  Liberal hasn't won a home game over Hays since 2007.  Liberal is 2-1 and 0-1 in the WAC and Hays is 1-2 and 1-1 in the WAC.  Liberal hosts Wichita Southeast Friday night at 7 for homecoming Friday night on 1270 and kscbnews.net.
Audio from beginning of game into first quarter:
Audio from remainder of game: