Redskins Fall Flat on Homecoming
Brock Kappelmann - February 5, 2022 6:42 am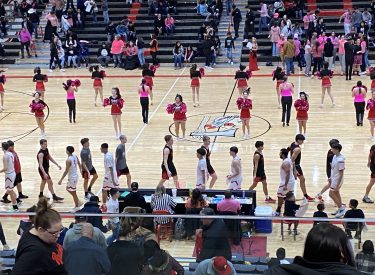 The Liberal Redskins hosted 2022 Winter Homecoming Friday night at the Big House.  But it wasn't long before visiting Great Bend took over the floor in a 67-31 win over the Skins as fans headed for the exits as the game was going.
The Panthers led 22-14 after one.  Great Bend ripped the Redskins in the second quarter 22-5 and led 44-19 at halftime.  Great Bend held Liberal down 16-2 in the third quarter to lead 60-21 after three quarters.
The Redskins were 4-18 from three and 2-6 at the foul line while the Panthers were 6-13 from three and 17-20 at the free throw line.  Great Bend bullied LHS on the boards 31-12
Liberal falls to 4-10 overall and 0-5 in the WAC.  Great Bend is 5-9 overall and 2-2 in the WAC.  Liberal plays at Guymon Tuesday night on 1270, 92.3, and the KSCB and The Legend App.
The Liberal Redskins JV team took on great Bend in the big house Friday, February 4 and came out victorious 60 to 56. This game was high velocity and high intensity as there were seven lead changes in the fourth quarter alone but in the end it was the Redskins who came through making four of five free throws at the end of the game to seal the game and move the record to 4-4. Leading score for the Redskins JV was Brooks Kappelmann who dropped 16 points against the Panthers Zayden Martinez had 15 Kentrail Fletcher Carson Chamberlain and Christian Loza all had six for the Redskins. The Redskins JV is in for a big week next week as they play two on Saturday the fifth in Garden City Then they play in the Elkhart tournament Monday and Thursday of next week as well as playing the two normally scheduled games against Hooker in Guymon next week on Tuesday and Friday.