Redskins Fall Apart in the Fourth of Regional
Brock Kappelmann - May 20, 2021 6:39 am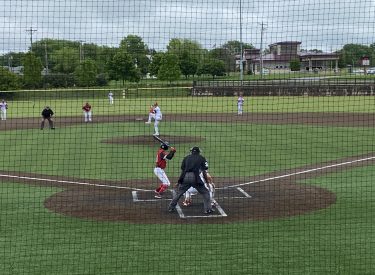 The Liberal baseball team came out ready to play amidst the rain drops Wednesday afternoon at Bettis Sports Complex near Lake Shawnee in Topeka.  They scored four in the first inning and led 6-4 in the middle of the fourth against the heavily favored Dodge City Red Demons.  But the Redskins struggled to throw strikes in the fourth and the Red Demons made them pay for it with 10 runs to break the game open.  Dodge City ended Liberal's season 15-7 in a game which went over 2 and 1/2 hours.
The Skins came out swinging.  After mustering a total of three hits and two runs in the previous two games against Dodge City, the Redskins scored four runs on six hits in the first.  Brooks Kappelmann and Izzy Rotolo singled to begin the inning.  Shay Kerr singled home Kappelmann.  Rotolo scored from third as Kerr was caught stealing at second for the 2-0 lead.  Oscar Rubio and Eric Baca singled. Carlos Campos was beaned.  Aaron Barboza singled home a run.  Aaron Archuleta lined a sacrifice fly to right. The Demons scored one in the first against starter Aaron Barboza.  The Redskins ended a scoreless second with a Barboza strikeout and catcher Shay Kerr threw out one of the two runners he threw out trying to steal.  DCHS tied the game in the third.  Liberal took the lead right back in the fourth.  Kappelmann, Rotolo, and Baca walked to load the bases with two outs.  Campos grounded a single to left to score Kappelmann and Barboza walked to score Rotolo for the 6-4 lead.  But Liberal walked four and beaned two before a two RBI single and two doubles broke the game open.  Dodge scored 10 runs on three hits, four walks, and two beanballs.  Liberal scored in the fifth after two Demon errors and and two walks.  Dodge City scored one in the bottom of the fifth.  The game was plagued by a small strike zone and both teams walked eight a piece.  Dodge City struck out 11 Redskin batters and Liberal pitching struck out five.
Dodge out hit LHS 11-8.  Dodge had the games only two errors.  Liberal finishes 6-14.  Dodge City is 14-7 and playing in regional final with Washburn Rural, a game which was suspended due to rain Wednesday night and will be continued Thursday.