Redskins Face Former Coach at State
KSCB News - March 4, 2012 11:42 am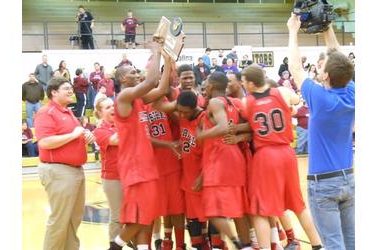 The Liberal Redskins will play former Redskin head basketball coach Rod Briggs and Lansing in the first round of the 5A state tournament Wednesday in Topeka. The 10-12 Redskins face 19-3 Lansing Wednesday at 3 p.m. The game will air on Talkradio 1270 and kscbnews.net. Briggs coached the Redskins from 2003-2006. The Redskins went to the state tournament in 2004 under Briggs and were 15-8. They were 17-5 the next season. Briggs first and last teams at LHS were 6-15. Liberal's Reece Petty is an assistant for Briggs. Petty played varsity basketball for Briggs at LHS.
The Redskins are the eight seed but are red hot winning seven of their last eight games after a 58-53 overtime win over Salina Central Friday night in Newton.
The other first round pairings are: #4 13-9 Kapaun vs. #5 13-9 St. Thomas Aquinas; #2 18-4 Goddard Eisenhower vs. #7 11-11 Bishop Carroll; and #3 16-6 Topeka Highland Park vs. #6 13-9 Kansas City Harmon.
The Meade boys and girls are going to 2A state in Manhattan. The 23-0 top seeded Meade boys play 10-13 Ell Saline Thursday at 3 p.m. while the 16-7 #8 Meade girls face 22-0 top seeded Olpe Wednesday at 3 p.m.