Redskins Earn Two WAC Points on Senior Day at Billy's
Brock Kappelmann - February 15, 2023 1:20 pm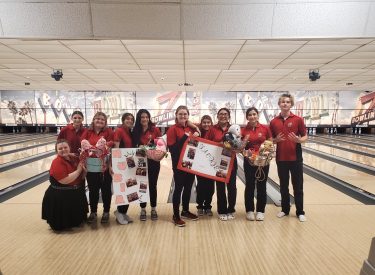 Andrew Potter
Liberal vs Hays and Holcomb at Billy's Ayr Lanes
Varsity boys finished with 2139 total pinfall. Lexton Batie led the team with
highest game of 176, and series of 473. The boys earned 2 WAC points. "Next
week is regionals, so we will have the next few days to individualize
practice a little more for them. With our team being so young it will be
important for them to work this off season to keep the growth going." Coach
Potter on the varsity team.
Girls Varsity: 2090 total pinfall. Frida Civis finished 1st overall with a
490 series. Her 204 was a meet high single game as well. Addison Hartnett
finished 2nd overall with a 476 series. The girls earned all 13 WAC points.
"I feel that Frida and Addison are bowling their best right now. They are
competing strongly at meets and pushing each other." said Coach Potter.
JV Boys: 1492 total pinfall. Braedin Gardner led the way with a 334 series
and high game of 144. Coach Potter had to say, "with todays meet being the
last one for JV it was great seeing the kids engery and emotions."
JV girls: 1707 total pinfall. Karime Ojeda finished 1st overall with a
personal best 353 series. Bret Lyon finished 2nd with a 335 series. Layla
Crotinger finished 3rd with a 334 series. JV Girls earned 13 WAC point.
"This group of girls showed a steady pace of improvement all year long.
Continue bowling in the off season will be improvement for the growth to be
greater next year." Coach Potter had to say.
Next week Liberal will travel to West Acres for regionals.