Redskins Drop Opener in Goodland
Brock Kappelmann - September 5, 2020 2:36 am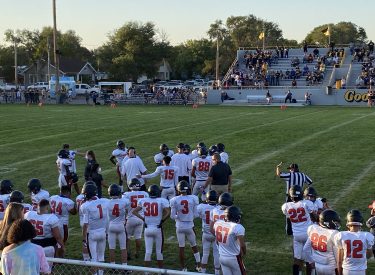 For the Redskins, it was too many gaffs in Goodland.  Three turnovers, struggles on special teams, inability to slow down Cowboy quarterback Leyton Cure, and a lack of a vertical passing game doomed the 2020 Redskin opener.  Goodland won despite their coaches being in quarantine.   Goodland's athletic director, superintendent, and junior high coaches stepped in to coach the Cowboys to victory.  This was the first meeting between the two schools in football since 1985.
It was an inauspicious start to the season.  Goodland recovered their own pooch kick when Liberal did not recover the football.  Cure found Devontay Hardy for a five yard score at the 9:53 mark.  Liberal went four and out on offense.  Cure threw a 40 yard strike to Hardy  at the 6:45 mark and converted the two point conversion for a 15-0 lead.  Liberal used a four play 65 yard drive to score on a 25 yard Shay Kerr TD run to make it 15-6.  Liberal didn't kick a PAT all night.  Malcolm Wiltshire's interception and 19 yard return to the Liberal 11 set the Skins.  Kerr's one yard run made it 15-12.  The Redskin defense held the Cowboys and forced a punt.  The Goodland punter lost the snap in the sun on the east-west Cowboy Stadium.  Hunter Huskey scooped up the loose ball and raced to the Goodland 12.  Easton Zapien's eight yard run at the 1:08 mark gave the Redskins the 18-15 lead.  Jack Daise intercepted a Kerr pass late in the first half.  Cure's 15 yard run gave Goodland the lead back at 22-18 with 2:16 to play in the half.
The first play from scrimmage in the second half resulted in a 45 yard pass play and a 15 yard penalty against Liberal for a Redskin coach colliding with the sideline official.  The next play resulted in a 19 yard run by Cure at the 10:49 mark to make it 29-18.  Liberal's high snap to punter Malcolm Wiltshire took him back to recover the high snap and try to run.  He was stopped by the Goodland defense at the five.  Cure's three yard run led to a Cowboy touchdown to make it 36-18 with 8:01 to play in the third quarter.  Zapien's five yard run at the 4:14 mark and two point conversion made it 36-26.  Jaylin Staten's 50 yard punt return for a score made it 36-32.  Liberal's Jim Bangs then forced a fumble and Cesar Baeza recovered with 1:14 to play in the third quarter.  But Liberal never scored again.  Goodland recovered a Redskin fumble at the 5:36 mark and Mason Murray's TD run with 2:48 to play sealed the deal.
Liberal and Goodland turned the ball over three times apiece.  Goodland's Cure was 9-13 for 193 yards and two touchdowns and rushed for 118 yards and three touchdowns.  Goodland gained 325 yards.  Liberal gained 270 yards but were 2-14 passing for 47 yards.  Zapien rushed for 133 yards and Kerr rushed for 83 yards.
Liberal hosts Dodge City for Senior Night Friday night at 7 at the Gary Cornelsen Sports Complex.  The game airs with Redskin Pre-game at 6 on 1270 and kscbnews.net.