Redskins Clamp Down on Concordia
Brock Kappelmann - January 18, 2019 6:20 pm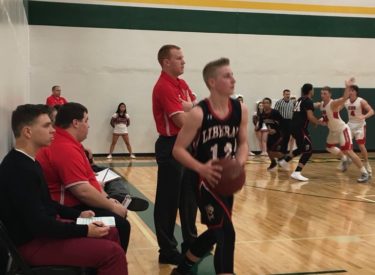 The Liberal Redskins ended their three game losing skid and won for the first time in 2019 with a 49-41 win over the Concordia Panthers Friday afternoon in the Salina Invitational Tournament.  The game was played at Salina South High School.
The Redskins led 11-8 after the first quarter.  LHS led 28-17 at the half as they made 5-10 first half three pointers.  The Redskins led 39-23 after three.  LHS got to the foul line more than at any time this season and went 16-28 at the line.  The Redskins made 6-14 three pointers while the class 3A Panthers made 6-17.
Brody Sumner led the Skins with 10 points.  Jordan Mendoza, Hunter Hatcher, and Alex Lopez scored nine a piece.  It was a second straight career high for Lopez who had seven the night before.
Liberal is 6-4 and Concordia is 2-9.  It's the third time in four years the Redskins have faced the Panthers and defeated them.
The Skins play Saturday at 4:15 against the Abilene Cowboys.  The game airs on 1270 and kscbnews.net.