Redskins Break Through with Win Over Gruver
Brock Kappelmann - January 26, 2022 6:48 am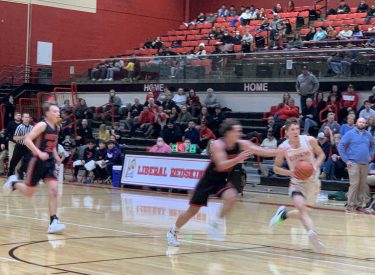 The Liberal Redskins won a game for the first time since December 11.  Liberal topped Gruver 69-59 Tuesday night in the Big House.  The Redskins end their seven game losing streak.  LHS led by as many as 22 on the way to the win.
Liberal got off to a good starter leading 7-2 and 10-4.  Gruver rallied and the score was tied 13-13 after one quarter.  The Skins played a strong second quarter building leads of 18-13, 26-17, 29-18, 32-20, and led at halftime 37-22.  So the Skins out paced the Greyhounds 24-9 in the second quarter.  The Redskins took a 40-22 lead in the third quarter and led 57-37 after three.  LHS took 22 point leads of 59-37 and 61-39.  Gruver rallied to cut the Liberal lead to nine at 64-55 with 1:46 remaining.  Gruver out scored Liberal in the fourth quarter 22-11.
Several Redskins enjoyed career nights.  Izzy Rotolo scored a career high 17 points to pace the Redskins.  Coby Tran buried four three pointers and scored 14 points.  Hunter Huskey, Carson Gilmore, and Isaiah Almeida had eight a piece.  Gruver's Jefferson Weaver had 16 and Colton Millsap had 15.
Liberal is 3-9 and Gruver is 19-7.  The Redskins host Guymon Friday night at about 7:45 on 1270, 92.3, the KSCB and The Legend App.
The Liberal Redskins JV defeated the Greyhounds in east campus yesterday by a 58-46 margin to notch their second win of the season. The Redskins came out on fire with an 8-0 run lead by a Zayden Martinez 2 and then consecutive 3's by Carson Chamberlain. The Redskins would never relinquish the lead from the tip off weathering the greyhound runs along the way. Brooks Kapplemann in his first game contributed 8 points and a plethora of rebounds. Zayden Martinez lead the Redskins with 12 points. Mekhi Huskey and Christian Loza also had 8 points. MJ foster and Carson chamberlain had 6 each and foster played great defense all night forcing 7 turnovers. Overall it was the best game the redskins had played all year. They will be back in action on Friday at home to take on the Guymon Tigers.