Redskins Blank Topeka
Brock Kappelmann - September 17, 2022 6:21 am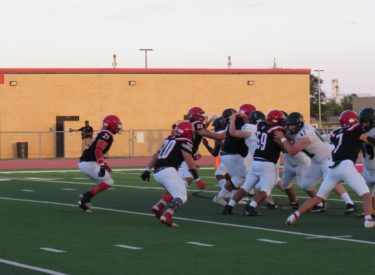 For the first time since 1998, the Liberal Redskins have shut out back to back opponents.  Liberal overcame a sluggish start to put away the Topeka Trojans 27-0 Friday night at the Gary Cornelsen Sports Complex.  It was the first time the two schools have played football.  Trystian Juarez had a monster night on both sides of the ball and was the Epic Touch Player of the Game.  Liberal knocked off Campus 50-0 and Andover 38-0 in 1998 for back to back shutouts.
Liberal scored on their first drive led by Trystian Juarez and the offensive line of Gianni Calvillo, Hudson Rice, Peyton Morlen, Marcus Tilford, and Trequez Dinkins.  Brooks Kappelmann's six yard run up the middle gave the Skins the first score at the 4:26 mark.  Kappelmann found AB Amador for two after the snap on the PAT was a bit low.  Adan Amador intercepted a pass at midfield for the first turnover of the game.  The Redskins went into the halftime locker room ahead 8-0 but scratching their heads that they hadn't scored more.  Coach Bryan Luetters said that was Liberal's worst half of football this season.
Trystian Juarez gashed the Trojans with a 71 yard touchdown run down the Redskin sideline and into the southwest end zone for a 14-0 lead with 6:05 to play in the third quarter.  Brooks Kappelmann's 26 yard touchdown run at the 9:15 mark extended the lead to 20-0.  Kappelmann's swing out pass to Aidan Schwindt went 20 yards for a touchdown at the 3:35 mark.  Ivan Moreno recovered a fumble in the fourth quarter.
Topeka High is led by four star recruit BJ Canady who played for the first time in 2022 after an injury.
Liberal amassed 480  yards offense and held Topeka to 219 yards.  Trystian Juarez rushed for 190 yards and Brooks Kappelmann ran for 95 yards.  Liberal's passing game totaled 147  yards as Kappelmann was 12-24 with a touchdown.
Liberal is 2-1 for the first time since 2019.  Topeka is 0-3.  Liberal hosts Dodge City for homecoming Friday night at 7pm on 1270 and 92.3.  Redskin Pre-game at 6pm.