Redskins Baseball Wins First WAC Title in 24 Year
Brock Kappelmann - May 12, 2017 9:39 am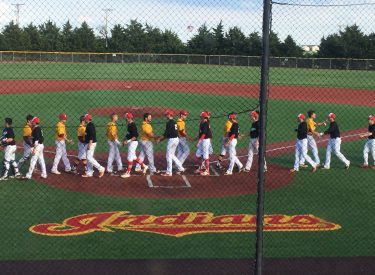 For the first time since 1993, the Liberal baseball team can claim to be a WAC champion.  About a dozen men in their early 40's from the 93 team and the current Redskins are the only men who can claim to be WAC baseball champs at LHS.  The Redskins swept Hays 2-1 and 11-7 to share the WAC title with Dodge City and Garden City.  Ironically, both the Red Demons and Buffaloes clinched WAC title on Liberal's home field.  Liberal went to Hays where they hadn't won since 2009 for the crowning victory.
In game one, the Redskins sparkled on the mound.  Kaiden Bigham pitched four strong innings allowing one run and Braxton Hyde went three scoreless innings for the save.  Hays scored their run in the first.  The Redskins plated two in the fourth.  Kaleb Wilmes lined a double to right to lead off the inning.  Then Pancho Terrazas singled to place runners at the corners with no outs.  On a safety squeeze, Kaiden Bigham laid down a bunt to score a run.  Cade Hinkle singled to left to score Hyde on a close play at the plate.
In game two, the Redskins scored 11 runs on eight hits and three Hays errors.  LHS scored in first when Wilmes popped to first but no one was covering home so Cesar Burciaga sprinted down the line to score.  The Indians answered in the bottom of the first.  With two outs in the third, Bigham lined a double to right center to score two and give the Angry Red a 3-1 lead.  Jett Brown doubled to lead off the fifth.  He would later scored on a two RBI single to right by Bigham.  Hays scored a pair to make it 6-3 and had the bases loaded with no outs in the bottom of the fifth.  But Hinkle's catch in right running up on a line drive turned into a double play helped reliever Alex Yanez out of the inning.  The Redskins busted the game open with five in the seventh.  Hinkle singled home a run and Burciaga doubled home two to center right before Cole Evans laced a two RBI double to left to score two more for an 11-3 lead.  LHS walked the first three batters in the seventh and allowed four runs.  But Tucker Deaton came into the game and got the final three outs.  Wilmes pitched four innings allowing three runs.  Yanez pitched 1 and 2/3 scoreless.
Liberal is 13-5 and 5-3 in the WAC tying with Garden City and Dodge City.  Hays is 8-10 and 3-5 in the WAC.  The Redskins win at Hays for the first time since 2009.  LHS sweeps at Hays for the first time since 1993.  The Redskins play regionals at Maize Wednesday at 2 on 1270 and kscbnews.net.