Redskins Back to .500 with Win at North
Brock Kappelmann - October 23, 2021 7:25 am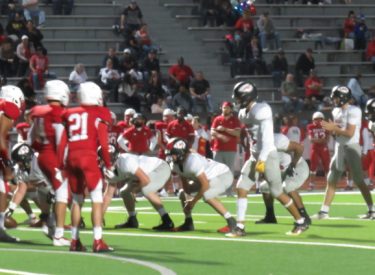 The Liberal Redskins improved to 4-4 with a 77-26 win over Wichita North at Wichita South's Carpenter Stadium Friday night.  It was a night of big plays for the Angry Red as they flipped the script one week after a blowout loss to Kapaun.  The 77 points are the most since an 80-7 win at Guymon in 2012.
Hunter Huskey scored on the first play from scrimmage on a 56 yard dash at the 11:48 mark.  Easton Zapien recovered a fumble on North's first play leading to Huskey's 15 yard scored and two point conversion for a 14-0 lead with 11:17 to play in the first.  Jim Bang's recovered a North fumble forced by Huskey.  But Liberal was denied on fourth and goal from the North four as the LHS snap sailed all the way back to the 40.  A 59 yard run by Cruz Alvarado on a counter play set up Michael Bailey's two yard score.  North got the two to make it 14-8 with 4:04 to play in the first.  Liberal sputtered with snaps and penalties the next offensive series, but a 57 yard strike from Brooks Kappelmann to Izzy Rotolo on 4th and 17 changed the momentum back to Liberal.  That made it 22-8 after the two point conversion.  Kappelmann found Rotolo again for a 64 yard score to make it 29-8 with 6:58 to play in the half.  Haret Huerta booted in an extra point for Liberal.  North came back as quarterback DJ Fowler hooked up with Jacob Wassle for a 57 yard score to make it 29-14 with 2:40 left in the half.  Kappelmann went to work again and hooked up with sophomore classmate Zayden Martinez for a 23 yard scored and a 36-14 lead after the PAT headed into the half.
Trystian Juarez imposed his will early in the second half.  Juarez forced a fumble and recovered it.  He ran in a five yard run to make it 43-14 after the PAT with 9:22 remaining.  Kappelmann and Rotolo found the endzone for a third time with 8:02 to play in the third on a 33 yarder to make it 50-14 after the Huerta PAT.  Martinez intercepted a North pass and took it across the field after a key block by Zapien for a pick 6 to make it 57-14 after the PAT.  Martinez intercepted his second pass of the night on the ensuing North possession.  North's Alarado scooped up a bad LHS snap in the end zone for a North score to make it 57-20.  Zapien scored from five yards out and made it 64-20 with 3:46 to play.  Zapien stripped the ball away from North and raced about 75 yards down the field for a touchdown and Liberal's second defensive touchdown of the night.  Ivan Moreno's five yard touchdown capped Liberal's scoring.  Fowler found Wassall for a 59 yard score with 1:55 to play as Liberal's young secondary was up and down on the night.
Liberal had 461 yards with 245 on the ground and 216 through the air. North had 246 yards including 167 through the air.   Izzy Rotolo caught three touchdown passes and Brooks Kappelmann threw four TD's.  Hunter Huskey rushed for 122 yards on 12 carries.  Zayden Martinez intercepted two passes and returned one for a score and caught at TD pass.  Easton Zapien recovered a fumble, rushed for a touchdown, and had a defensive TD.  Trystian Juarez was active on defense and was Epic Touch Player of the Game along with Kappelmann.
Liberal is 4-4 and North is 1-7.  The Redskins begin the 5A playoffs at Salina Central Friday night at 7 with Redskins Pre-game at 6 on 1270, 92.3, and the KSCB ap.  Liberal is the 12 seed and Salina Central is the five.