Redskin Soccer Secures Two Wins Over Great Bend
Brock Kappelmann - October 19, 2022 6:27 am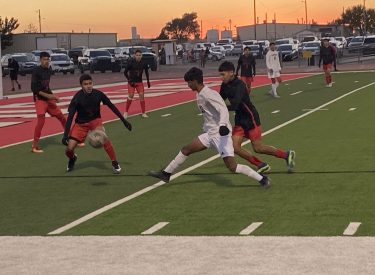 On Liberal's Senior Night, the Liberal Redskin soccer team gained two wins over the Great Bend Panthers Tuesday night at the Gary Cornelsen Sports Complex.  Liberal finally wrapped up their opener September 1 with a 3-0 win before taking the nightcap in the regularly scheduled game 7-0.
Game one began September 1 in Great Bend before a storm hit and postponed the game.  Erick Garcia scored a goal in September, Suain Moncayo scored two goals Tuesday evening in Liberal for the 3-0 win.  The game picked up with Liberal leading 1-0 at the 21:44 mark of the first half.  The game only went to halftime.
In the night game, Suain Moncayo scored four goals on the way to the blowout win.  Liberal led 4-0 at halftime.  Manny Ortuno scored on a penalty kick.  Jonathan Rios and Seth Michel added second half goals into the south net.
The Redskins are in  second in the WAC at 5-2 and improve to 8-7 overall.  Liberal wraps up the regular season at WAC champion Dodge City on Thursday night.