Redskin Runners Look to Continue Winning Ways
KSCB News - September 1, 2010 12:00 am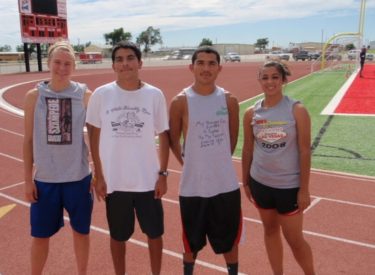 The Liberal cross country team is looking for a seamless transition. They have a different head coach with the same last name. Cheri Bevis, a former Moscow High School standout and Lady Saint basketball player takes over the reigns of the LHS cross country program after her husband Darin Bevis who left Liberal High to go to Southwestern Heights.
There are high expectations for the LHS boys who have won back to back WAC titles and have qualified for state two consecutive seasons. They returns three runners who have run two state races in seniors Alejandro Avila, Jaime Minjarez, and Alan Grajeda. The rest of the team will make their varsity debut Thursday at Great Bend. Juniors Eric Minjarez and Garrett Allaman join sophomore Edgar Loya and freshman Angel Viveros to round out the varsity. The Redskins lose Morgan Riggs who placed 12th at state last year and signed at Emporia State. There are 21 boys out for cross country.
The girls are in a much more precarious position. LHS won state in 2002 and Katie Bourell helped that team to the school's only team title in the sport. She (now Katie Kline) is now an assistant along with Russ McPhall. Destyni Lucero returns after she qualified for state as a freshman. Lauren Sumner went to state in Lawrence her freshman and sophomore years and hopes to finish her career at Rim Rock Farms this fall. Freshman Kim Francis and Mercy Perez make up the rest of the young varsity team. Eleven of the 16 female runners are freshmen. Liberal opens their season at Great Bend Thursday. Bevis and members of the team were guests Wednesday morning during the Sportsguys on Talkradio 1270.
2010 Schedule
Varsity and Junior Varsity Cross Country
September
2
@ Great Bend Invitational (V/JV)
4:00 PM
September
9
@ Hesston Invitational (V/JV)
4:00 PM
September
16
@ Hays Invitational (V/JV)
3:45 PM
September
25
@ KU Invitational (V)
TBA
October
2
@ Newton Invitational (V/JV)
10:00 AM
October
9
@ Lakin Invitational (V/JV)
10:00 AM
October
14
WAC @ Liberal
4:00 PM
October
23
Regionals
TBA
October
30
State
TBA