Redskin Rally Falls Short in Hays
KSCB News - September 20, 2014 7:18 am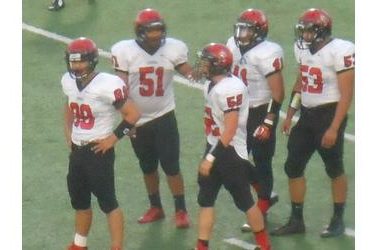 Things did not look good early. Hays built a 28-0 lead on the visiting Liberal Redskins Friday night but then had to hold on for a 42-28 win over LHS in front of a big crowd at Lewis Field in Hays. Hays quarterback and future Kansas State Wildcat Alex Delton rushed for 265 yards as the Indians defeat the Redskins for the sixth consecutive year. But Liberal seemed to take a step forward as a team Friday night even in a loss. Liberal scored three unanswered touchdowns to trail 28-21 and trailed 35-28 with 7:27 to play. The Redskins did not turn the ball over after five turnovers in the Guymon game.
Alex Delton took the first play from scrimmage 57 yards untouched up the middle for a score at the 7:36 mark. Adam Klaus's 10 yard run at the 3:23 mark made it 14-0 after the PAT. That was the score at the end of the first quarter before Isiah Blackmon's seven yard run to make it 21-0 with 10:46 to play . Delton's 49 yard run gave Hays a 28-0 lead with 6:25 to go in the half. Mershek Wiltshire's 85 yard kick return for a score gave Liberal a score at the 6:14 mark to make it 28-7 Indians. That was the halftime score.
Delton fumbled on the opening Hays drive and Wiltshire recovered at the Hays 43. Jared Hasik's 16 yard scored at the 6:56 mark made it 28-14 after the Tra Clay PAT. Alan Fraire had another active night defensively forcing a fumble which Zach Maxwell recovered with 3:50 to play in the quarter. Hasik's 48 yard score up the middle made it 28-21 Hays with 11:44 to play. Then on the key play of the game, Delton raced 41 yards down the west sideline but fumbled before he entered the endzone. But Hays' Maddux Winter recovered for a TD to make it 35-21 game with 10;31. The Redskins got a break when Hasik's pass to Mitchell Irby tipped off of him and deflected to the Redskin sideline and into the arms of Jared Carroll to took it 62 yards for a score to make it 35-28 after the Clay PAT. Hays answered with a Klaus 12 yard run to lead 42-28 with 6:57 to play.
Hays put up 453 yards of offense but Liberal turned two turnovers into 14 points. Liberal had 311 yards led by Hasik's 106 rushing yards with two TD's and 106 passing yards.
The Redskins are 1-2 and 0-1 in the WAC and #3 4A Division 1 Hays is 3-0 and 2-0 in the WAC.
Liberal hosts 2-1 Dodge City Friday night at 7 at the Cornelsen Sports Complex. Redskin Pre-game begins at 6 on 1270 and kscbnews.net.