Redskin Rally Falls Short in Garden City
Brock Kappelmann - March 30, 2022 7:02 am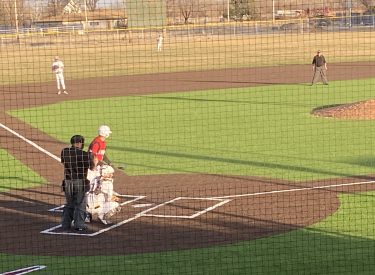 The Garden City Buffaloes built a 9-1 lead before holding on to beat the Liberal Redskins 9-8 Tuesday night in the WAC opener at Lightner Field in Garden City.  Liberal out hit Garden City 9-7 in the loss.
The Buffaloes built a big lead scoring two in the first and five runs in the third with two outs.  Izzy Rotolo laced a double down the right field line to lead off the fourth and would score on a wild pitch to make it 7-1.  Garden City scored two more with two outs when Liberal was unable to catch a fly ball to left.  The Redskins mounted a rally in the fifth.  Erek Lira singled and Zayden Martinez walked.  Brooks Kappelmann singled and Izzy Rotolo singled home a run.  Shay Kerr grounded out to drive home a run.  Oskar Rubio singled home a run.  Carlos Campos singled home a run to make it 9-5.  LHS scored three in the seventh as Rotolo walked and Kerr singled to lead off the inning.  Campos walked with one out.  Rotolo scored on a wild pitch.  Erick Baca singled.  Aidan Schwindt walked.  Lira grounded out to scored a run.  The tying run was on third when LHS struck out to end the game.
Erek Lira and Izzy Rotolo had two hits a piece.  Shay Kerr pitched two scoreless innings.
Liberal is 2-1 and 0-1 in the WAC.  Garden City is 2-2 and 1-0 in the WAC.  Liberal hosts Hays Friday at 4 with Redskin Pre-game at 3:45 on 1270, 92.3, and The KSCB and The Legend App.