Redskin Offense Sputters in Loss the Hays
Brock Kappelmann - January 7, 2023 6:57 am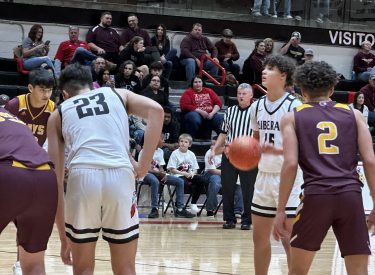 Liberal's boys basketball fought and scratched and dove while playing improved defense Friday night against the Hays Indians.  But the Redskins couldn't shoot straight in a 60-38 loss Friday night in the Big House.  It's Liberal's 11th straight loss to the Indians.
Hays took a 16-2 lead after one quarter as the Redskins did not have a field goal.  Liberal didn't have a field goal until a Brooks Kappelmann bucked with 4:32 to play in the second quarter.  It was 29-14 Hays at the half.  The Indians lead ballooned in the third quarter as Hays High led 46-24 after three.
Liberal was 1-14 from three and 16-21 at the foul line.  Hays was 2-13 from three and 10-13 at the foul line.  Zayden Martinez had 16 points and seven rebounds.  Izzy Rotolo scored eight.
Liberal is 2-4 and 0-1 in the WAC.  Hays wins their 20th consecutive WAC game and is 4-4 overall and 1-0 in the WAC.  Liberal plays at Garden City Tuesday night at about 7:45 on 1270 and 92.3.