Redskin Defense Shuts Down Great Bend
Brock Kappelmann - February 1, 2019 11:05 pm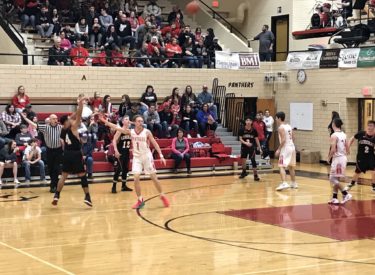 Liberal has a WAC win. The Liberal Redskins held Great Bend to 16 second half points in a 43-34 win on homecoming night at Panther Gym in Great Bend Friday night.
The Panthers came out fired up in front of a big homecoming crowd. Great Bend led 6-0 and then 9-6 after one quarter. Great Bend led 15-8 before a 7-0 Redskin run tied it. The Panthers led 18-15 at halftime. The Skins were 0-10 from three point range in the first half. Great Bend led 20-15 before Brody Sumner and Hunter Hatcher buried three's to lead 21-20. Liberal led 24-20 before the Panthers grabbed a 26-24 lead. The Angry Red led 27-26 after three. Liberal took a 35-28 lead. Great Bend cut the lead to 37-31 with 1:26 to play but the Redskins would lead by as many as 10 at 41-31 on the way to the road win.
Liberal made 4-16 three pointers and 7-12 free throws. The Panthers were 5-20 from three and 5-9 atvtthe foul line.
Braxton Hyde led the Redskins with 13 points. Jordan Mendoza added 10. Israel Avalos has eight. Brody Sumner had seven. But is was Liberal's defense which stood tallest holding Great Bend sharp shooter Alex Schremmer to three points. He averaged 16 a game.
The Angry Red wins their fifth straight at Great Bend and their eighth out of nine against Great Bend.
Liberal has matched last year's win total with an 8-5 record and 1-2 in the WAC. Great Bend is 5-10 and 2-2 in the WAC. Liberal hosts Guymon Tuesday at about 7:45 on 1270 and kscbnews.net. It will be their first home game since January 4. The Redsins play five of the last seven regular season games in the Big House.