Redskin Cross Country Opens with Increase Numbers
Brock Kappelmann - August 31, 2022 2:01 pm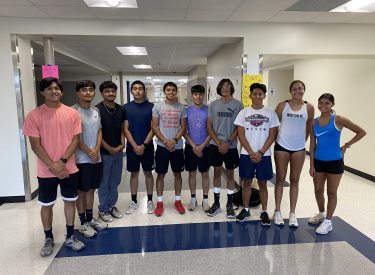 Liberal has 40 runners out for cross country entering the 2022 season.  They are looking for big things in coach Stan Kachel's fourth year as head coach with a senior oriented boys team and a young and talented girls team.
There are 26 boys out for cross country.  Kachel says he expects a lot of competition for varsity spots.  Some of the top runners are Sr. Daniel Amparan, Sr. Jack Naranjo, Sr. Elian Laguna, Sr. Brian Ortega, Sr. David Villa, Jr. MJ Foster, Jr. Daniel Pavia, Jr., and So. Enrique Morales.  The boys were 3rd in the WAC last year.
The girls are led by Sr. Hallie West and Jr. Daniela Cerda who have both qualified for state two times.  Cerda barely missed all state with a 23rd place finish last year.  Sophomore Bella Gutierrez made state as a freshman last year.  Other key Redskin girls are So. Bentlee Fitzgerald, So. Ariana Cerda, and Jr. Jenny Casas.  The girls were fifth in the WAC last year but were fourth in the regional and barely missed making state as a team.
The running Redskins were featured during Sportsguys on Tuesday morning.
Schedule
September 1- at Meade
September 8- at Hesston
September 17- at Hugoton
September 24- at Lawrence
October 1- at Newton
October 8- at El Dorado
Ocotber 13- WAC at Garden City
October 22- Regionals
October 29- State at Lawrence