Redskin Cross Country Boys Make State
Brock Kappelmann - October 22, 2018 6:18 am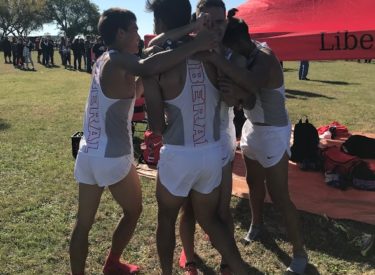 WICHITA – It was an achievement years in the making.
In their final opportunity, the seniors on Liberal boys' cross country team achieved a years-long goal by qualifying for the Kansas State Cross Country Meet. The Redskins finished third at the Wichita-East Regional Saturday to claim the final team spot, 19 points ahead of WAC rival Garden City.
"I couldn't be happier for this group of boys," said Liberal coach Maggie Lapinski. "The majority of them have been running together since seventh grade. They are such a hard working group and to see them finally accomplish their goal of making it to State – it was awesome."
Senior Antonio Borunda finished 10th in 17:16.82, just ahead of senior teammates Xavier Perez (13th – 17:25.04) and Javier Carillo (15th – 17:35.65) and sophomore Alex Lopez (16th – 17:36.19). Joel Obando (17:50.12), Fuasto Parral (18:28.67) and Joshua Diazdeleon (18:35.18) were 23rd, 35th and 36th, respectively.
Wichita-East won the regional with 34 points, eight better than runner up Dodge City. Liberal finished with 77 points, well ahead of fourth-place Garden City, who had edged the Redskins by two points to finish third at the WAC meet.
In the girls' race, Liberal finished fifth, improving on its seventh seed going into the regional. Junior Audrey Gilmore finished 17th in 21:33.65, missing automatically qualifying for the state meet by one place.
Junior Katie Horyna was 19th, freshman Helena Combs 24th, sophomore Reece Hay 40th, freshman Joceline Hernandez 42nd, senior Gisselle Melendez 43rd and freshman Pamela Bolivar 51st to lead the Redskins.
"I'm very proud of how our girls ran today," said Lapinski. "Every one of them ran a season PR and finished the season on a positive note."
The Liberal boys will run the state meet this coming Saturday at Kansas University's Rim Rock Farm.
Maggie Lapinski