Redskin Baseball Nearly Untouched by Graduation
KSCB News - March 25, 2014 2:26 pm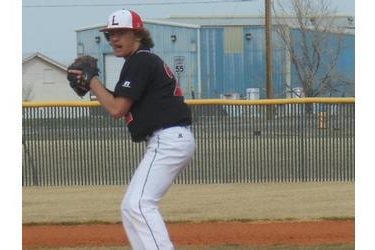 The Liberal baseball Redskins were drastically improved last year. After going 2-19 two years ago, a team without a senior starter and playing multiple freshman improved to 9-12. Eighth year head coach Eric Olmstead says this team has a chance to be improved if they can play better defense than they did in key stretches last season. The program is trying to get back to winning ways. After going 13-8, 13-9, 13-8, and 13-8 in Eric Olmstead's first four seasons as head coach, the Skins dipped the past three years going 9-12, 2-19, and 9-12.
Currently the varsity will be without a big bopper Brandyn Terrazas due to injury he is expected to be out about six weeks. Varsity member currently include So. P/SS Jared Hasik who plays on a select summer team in Wichita. Other key players are So. CF/P Tim Fitzgerald, So. 1B/P Kaiden Long, So. 3B/ P/SS Stevie Lira, So. C/2B Law Greiner, So. C/2B Angel Archuleta, So. 2B/OF Sylman Pando, Jr. OF Cristian Erives, Sr. 2B Lorenzo Pando, Sr. P/OF/1B Collin Ware, Sr 3B/OF Adrian Carrasco, Sr. OF Junior Acosta, and Sr. P/1B Jared Fox.
Liberal opens at Hugoton who was 20-2 last year and beat LHS 10-2 and 10-4. First pitch at 4 p.m.
March 25- at Hugoton 4 pm
March 28- Weatherford, OK at Woodward 2 pm
April 1- Ulysses 4pm
April 8- at Great Bend 4pm
April 11- at Guymon 4pm
April 15- Scott City 4pm
April 21- Guymon 4pm
April 22- Woodward 5pm
April 25- at Colby 4pm
April 29- Dodge City 4pm
May 3- at Garden City noon
May 13- Hays 2pm