Redskin Baseball a Bit More Experienced
Brock Kappelmann - March 24, 2022 7:33 am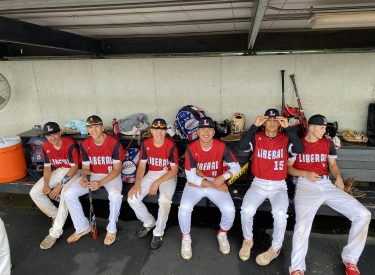 It was a double whammy.  Liberal expected to have a strong senior oriented team in 2020 before the season was canceled.  But it also left the 2021 Redskin baseball team with very little varsity experience.  But Liberal has eight seniors on the squad this spring as they look to build back from their 6-14 season in 2021.  2020 would have likely been a sixth straight winning season before a step back last spring.
Eric Olmstead is in his 16th year and 15th season as Redskin head coach.  He is responsible for two of Liberal's three WAC titles and one of the two state tournament appearances.  Olmstead is 164-132 at LHS.
Liberal's numbers are improved with 38 out for baseball.
Liberal may not have a dominant starting pitcher, but they have many arms to choose from.  Most of them will likely pitch to contact.  Pitchers are senior Oscar Rubio, senior Shay Kerr, sophomore Brooks Kappelmann, senior Hunter Huskey,  sophomore Erek Lira, sophomore Zayden Martinez, senior Braden Holder, sophomore Aidan Schwindt, senior Jesus Arredondo, and senior Carlos Campos.  Behind the dish, the Skins have experience with senior Shay Kerr, junior Izzy Rotolo, and sophomore Aidan Schwindt.  Seniors Oscar Rubio and Jesus Arredondo figure in at first.  Sophomore Aidan Schwindt and senior Carlos Campos at second.  Sophomore Brooks Kappelmann and senior Shay Kerr at shortstop.  Senior Carlos Campos and sophomore Erek Lira at third.  Junior Izzy Rotolo and sophomore Zayden Martinez in center.  Senior Hunter Huskey and senior Braden Holder in left.  Senior Erick Baca  and senior Alexis Vasquez in right.  Of course, these positions are all subject to change once the season starts.  Olmstead was a guest during Sportsguys Thursday morning.
2022 Schedule
March 24- at Hugoton DH
March 29- at Garden City (1270)
April 1- Hays DH (1270)
April 8- at Great Bend DH (1270)
April 12- at Dodge City (1270)
April 14- at Guymon DH
April 15- at Woodward DH
April 19- Garden City (1270)
April 22-23 at Wichita Life Prep
April 25- Wichita South DH
May 2- Elkhart DH
May 10- Dodge City (1270)
Here are Liberal's seasons under Eric Olmstead.
2021- 6-14
2019- 11-10
2018-16-6
2017- 13-6
2016- 16-5
2015- 18-5
2014- 12-10
2013-9-12
2012- 2-19
2011- 9-12
2010- 13-8
2009- 13-8
2008- 13-9
2007- 13-8