Red Flag Warning for the Oklahoma Panhandle
Joe Denoyer - January 11, 2023 9:36 am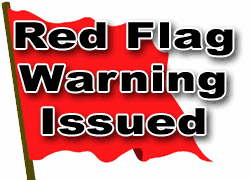 The National Weather Service has placed Cimarron, Texas, and Beaver Counties are under a Red Flag Warning for today. Due to above average temperatures, low humidity levels, and expected high winds the fire danger will be extreme.
High temperatures expected in the mid 60's with winds West to Southwest at 20-35mph. Gusts can be expected near the 50mph range. High Fire Danger will continue till near 8:00pm tonight.
Texas County continues to be in an active Burn Ban. It is unlawful for any person to set fire to any forest, grass, range, crop, or other wildlands, or to build a campfire or bonfire, or to burn trash or other material that may cause a forest, grass, range, crop, or other wildland fire. Special exemptions for road construction projects, weilding/cutting torch/grinding activities, and outdoor cooking are available.
If you have questions or concerns, please contact the Guymon Fire Department at (580) 338-5536