Red Flag Fire Warnings Issued For Western Oklahoma
KSCB News - April 29, 2011 8:05 am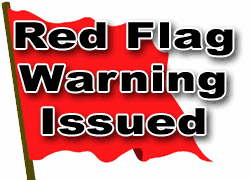 Despite recent rain, parts of western
Oklahoma are at risk for wildfires on Friday.
The National Weather Service has issued a red flag fire warning
for 11 counties in western Oklahoma. The counties are Beaver,
Beckham, Cimarron, Custer, Greer. Harmon, Kiowa, Jackson, Roger
Mills, Texas and Washita.
Southwest winds of 20 to 35 mph with higher gusts, relative
humidity between 5 and 15 percent and warm temperatures will make
conditions ripe for such fires in the Panhandle. Similar conditions
are expected in other counties, where the relative humidity will be
between 15 and 20 percent.
Temperatures are expected to reach the 80s and 90s.
Lingering drought that has kept vegetation dry and slow to turn
green has made Oklahoma susceptible to wildfires this year.