Recreation Department Hosts First Lego League Robotics Tournament
Joe Denoyer - March 26, 2022 6:52 pm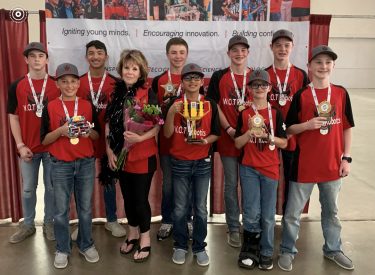 The Liberal Recreation Department hosted the Annual Kansas Southwest Region First Lego League Championship. The event took place Saturday, March 26th at the Seward County Activity Center.
Teams from Oklahoma, Texas, and Kansas competed in this Robotics Competition. During the morning hours, the teams made presentations before a panel of judges and fine tuned their robots on practice tables for the afternoon table competition.
The theme for this years event was Cargo Connect. Lego Teams constructed a robot from Lego's, with a Project mission related to Cargo. The students had been asked to research and solve real-problems related to Cargo handling.
Winners on the day were:
Project Award – 1st Wizards of Technology-Green 2nd Wizards of Technology-Orange
Robot Design – 1st Boise City Battlecats 2nd Wizards of Technology-Orange
Core Values – 1st Hugoton Blockbusters 2nd Boise City Battlecats
Overall Champion – Perryton Wizards of Technology-Blue, 2nd place Blockbusters
The event took over 70 volunteers to put on, and over 1000 people were in attendance at the tournament.
The Junior Lego League competed in the morning.