Record 10 Lady Saints Named All Conference
Joe Denoyer - May 1, 2018 12:21 pm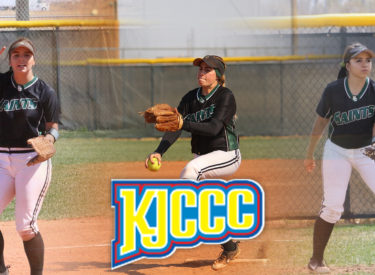 LIBERAL, Kan. – After wrapping up a record breaking 22-win conference season on Sunday, the Seward County softball team continued to break records as the Jayhawk West All-Conference teams were announce with a record 10 Lady Saints being selected to the All-Jayhawk West Team.
Monique Ashley leads the ten Seward selections after picking up where she left off in her 2017 campaign. Ashley tied her single season record of 27 wins, while breaking the single season record in strikeouts, leading the Jayhawk Conference with 310 k's. She also broke the all-time wins marks with 54 and sits in second place in all-time strikeouts (527), becoming just the second Lady Saint to record 500 strikeouts. She led the conference in wins and strikeouts, while finishing third in ERA (1.84).
Joining Ashley on the first team was catcher Sage Harrison. The long ball was Harrison's weapon of choice this season, breaking the Seward County single season record, hitting 22 bombs on the year. She was tied with Brianna Robinson of Butler for the most home runs in the conference. She also tied the Seward County all-time home run record, finishing her career with 35 jacks. To go along with her 22 home runs, she also finished third in the conference with 62 RBI.
The final first team selection was shortstop Jullian Atteberry. She finished in the top ten of multiple categories in the single season record book including batting average (4th – .443), hits (3rd – 90), home runs (4th – 16) and runs scored (4th – 68). She showcased her ability to get on base with a career on base percentage of .463, which included the second most bases on balls in Seward County history.
Second basemen Kaitlin Ammermann was named a 2nd Team All-Conference selection. Ammermann finished third on the team in batting average (.363) while hitting four bombs for 33 RBI. Ammermann helped shore up the middle of the infield, finishing the season with a .965 fielding percentage, committing just two errors on her 57 chances.
Leena Mortensen was named 2nd Team All-Conference as utility. Mortensen missed the last half of the conference season due to an injury, but finished third in conference batting average, hitting .526 from the plate, with only one strikeout in 38 at bats.
In the outfield, Sydney Epp picked up her second straight 2nd Team All-Conference selection, finishing fifth on the team in batting average, as the lefty hit .344. She finished the season with four home runs and 34 RBI, good for third most on the team.
The final 2nd Team All-Conference selection was rookie pitcher Jordan Cordrey. Cordrey went 8-3 in conference games and won 11 games overall. Against conference opponents she had a 4.94 ERA.
First year third baseman Corrina Porras was an Honorable Mention All-Jayhawk selection for Seward. Porras played in 48 games for the Lady Saints, hitting .308 with nine doubles and three home runs.
Joining Porras on the Honorable Mention team were two Lady Saint outfielder. Sophomore Raelyn Sanchez hit .298 in conference play as the primary centerfielder for Seward and finished the season with five doubles.
Rounding out the ten choices for the Lady Saints was freshman outfielder Miranda Nester. Nester played in 45 games for the Lady Saints, finishing the season with a .306 batting average, including .358 in conference play, while knocking in 27 RBI.
Seward tied with Butler for the most All-Conference picks, both coming away with ten, tying the conference record.
[Email Signature]