Rattlers Win 3 of 4 to Begin Summer Season
Brock Kappelmann - June 6, 2021 7:07 am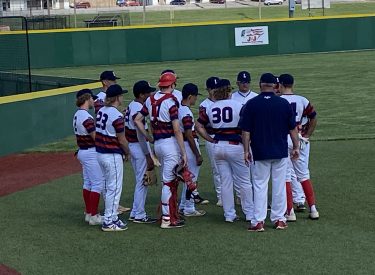 The Liberal Rattlers 17u team opened their summer winning three of their four games at Demon Field in Dodge City Friday and Saturday.   The Rattlers dropped the opener 5-2 to the Buhler Nationals on Friday before beating the Dodge City A's 11-3.  Saturday, the Rattlers outlasted the Finney County Blues 8-4 and routed Wellington 13-3.
In the Buhler game, Shay Kerr had two hits.  Zevin Littell pitched four innings and Aiden Schwindt went two innings.  In the Friday night win over Dodge City, Zane Eyler had a triple and a double.  Adam Mendoza had two hits.  Medoza and Erik Baca drove home two runs a piece.  Brooks Kappelmann pitched 2 and 1/3 with five strikeouts and Oscar Rubio went 3 and 2/3 innings.
On Saturday afternoon, the Rattlers built a 5-2 lead before the Blues scored two unearned runs in the third to make it 5-4.  The Rattlers scored three in the fourth to lead 8-4.  Adam Mendoza pitched 3 and 1/3 innings and Jose Degollado pitched 2 and 2/3.  Adam Mendoza and Oscar Rubio had three hits a piece.  Brook Kappelmann had two hits.  Zevin Littell drove home two runs.  The Rattlers beat the Wellington Crusaders to wrap up their first weekend after high school ball.  Liberal used a six run second and a five run fifth.  Zayden Martinez pitched 3 and 1/3 innings.  Oscar Rubio went 1 and 2/3.  Erik Baca and Zane Eyler had two hits a piece.
Liberal plays at McPherson this weekend.