Rattlers Take 2nd at State as 14's Win State
Joe Denoyer - July 19, 2016 5:28 pm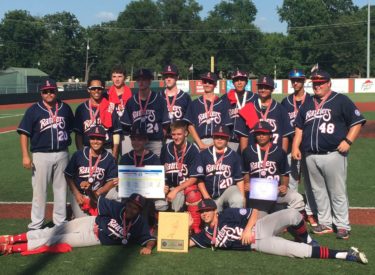 14 year old Rattlers
The Rattler baseball program now has two state champions.  The 11's won state in Garden City on Sunday.  Monday the 14's won state at Pittsburg with a 10-4 win over Fort Scott.  The 19 and under Rattlers were the state runner up.  Wellington upended the Rattlers 7-5 after the Rattlers took down Lyons in the semifinals 11-1.
The Rattlers won the semifinal game scoring four in the first, three in the fifth, and four in the sixth.  Cole Evans pitched six strong innings allowing one earned run.  Kaiden Long drove home four runs.
In the championship, the Rattlers had eight errors.  Wellington scored three in the first before Liberal scored one in the first and three in the third.  Wellington scored one in the fourth and the sixth and the Rattlers tied the game at 5-5 in the sixth.  Wellington scored two in the eighth.
Here's stats for the 14's at state in Pittsburg.
POOL PLAY:
Beat SPIAA 21-2
(WP) Aiden Pittman 2IP,0H,1ER,2K
Baylor Roberts 2IP, 2H, 1ER
WOW: Lee Hatcher
MVP: Braxton Hyde
Beat Fort Scott: 10-3
(WP)Javier Bojorquez 3IP, 4H, 1ER, 2K
Ulises Rivera 4IP, 2H, 0R
WOW: Lee HAtcher
MVP: Syris Dunlap
Beat Rose Hill 19-0
(WP) James Armstrong 4IP, 1H,0R, 6K
WOW: Hunter HAtcher
MVP: James Armstrong
Bracket Play:
Beat Wellington 6-3
(WP) Braxton Hyde 7IP, 5H, 2ER, 10K
WOW: Hunter Hatcher
MVP: Javier Bojorquez
Beat Fort Scott 10-4
(WP) Ericson Vasquez 5IP, 6H,3ER, K
James Armstrong 2IP, 1H,1ER,2K
WOW: Braxton Hyde
MVP: Ericson Vasquez
Tournament Stats:
Aiden Pittman 2R, RBI
Braxton Hyde 7H, 7R, 9RBI
Ericson Vasquez 8H, 9R, 4RBI
Giovanni Heredia 1H, 5R, RBI
Hunter Carson 5H, 3R, 5RBI
Hunter HAtcher 3H, 7R, 5RBI
Isaiah Porras 3H, 3R, 4RBI
James Armstrong 1R, 1RBI
Javier Bojorquez 6H, 8R, 4RBI
Lee Hatcher 2H, 4R, 3RBI
Nelijah Tatum 2H, 2R, RBI
Rodney Pando 3H, 4R, 3RBI
Syris Dunlap 7H, 10R, 6RBI
Ulises Rivera 1R, 1RBI