Rattlers Roll at Ulysses
Brock Kappelmann - June 24, 2021 7:10 am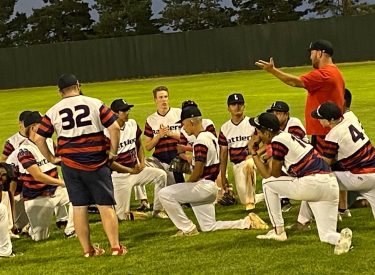 The Liberal Rattlers won 9-1 at Ulysses on a hot night Wednesday night.  It was 106 degrees shortly before first pitch at Ulysses Wednesday night.
The Rattlers scored four in the third, one in the fifth, one in the sixth , and three in the seventh in the win.  Ulysses scored one in the third.  Carlos Campos was 3-5 with three  runs in the win.  Zayden Martinez was 2-4 with a double and a triple.  Shay Kerr, Justin Degollado, Erick Baca, and Martinez had two hits a piece.  Zevin Littell worked 3 and 1/3 innings with five strikeouts and no walks.  Adrian Favila pitched 2 and 2/3 scoreless with three strikeouts and no walks.  Justin Degollado worked a scoreless innings against his high school teammates.  The Rattlers out-hit Ulysses 15-5.
Liberal used their younger players in game two and lost 13-1.  The Rattlers play at a tournament in McPherson Friday and Saturday.