Rattler Pitching Strong in Dodge City Wins
Brock Kappelmann - July 16, 2023 10:26 am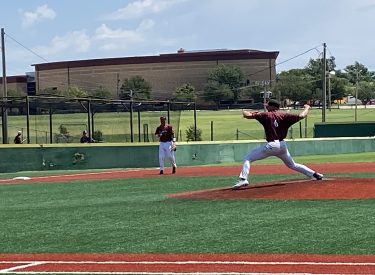 Brooks Kappelmann and Jhett Huffman pitched the Liberal Rattlers to a pair on wins Saturday morning and afternoon at Demon Field in Dodge City.  The Rattlers won the first game 5-2 over the Salina Millers before taking the afternoon championship game over the Dodge City A's 6-3.
In the Saturday morning game with Salina, Brooks Kappelmann struck out 16 in the complete game win.  Kappelmann allowed just one hit.  Gus Eyler was 2-3 with two RBI's.  Erek Lira and Adam Mendoza doubled in the win.
In the Dodge City win, Jhett Huffman struck out ten in the complete game win.  Huffman did not allow an earned run and allow just three hits.  Alex Schwindt was 3-3 with a double and three RBI's in the win.
The Rattlers are 17-5 this summer.  They round out their season at Goddard next weekend.