Rangers Even Series with Bee Jays
Brock Kappelmann - July 11, 2021 8:29 am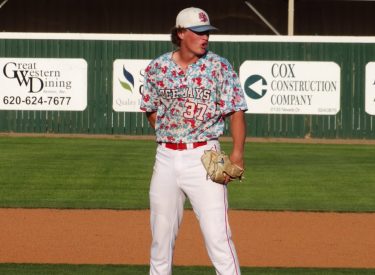 The Park City Rangers handed the Liberal Bee Jays their third loss in four games Saturday night at Brent Gould Field.  One night after an offensive barrage by both teams, the Rangers downed the BJ's 6-4 with with wind blowing in.
The BJ's scored one in the second before Park City used a two run third to take the lead.  Liberal scored a run in the fourth to tie it.  Park City used a three run sixth to lead 5-2.  They added a run in the seventh for a 6-2 lead.  The Bee Jays scored two in the ninth to make it 6-4.
The Bee Jays out hit their opponent in a loss for the third time this week.  Liberal out hit Park City 9-7.  Scott Anderson's double was the BJ's only extra base hit.  Anderson was 3-4 with two runs.  Blaine Thomas was 2-3.
Cade Citelli started and went five innings allowing three earned runs.  Payton Strambler and Kyle Duffey worked scoreless innings out of the pen.
Liberal is 18-5 with a KCLB record of 17-4.  Park City is 16-8 and 14-8 in the KCLB.  Liberal hosts Park City Sunday night at 7 at Brent Gould Field.  National Beef is the buyout sponsors and will be giving away free hamburgers.  There will be free snow cones for the first 100 fans.