Raised Expectations Greet 2016 LHS Baseball Team
KSCB News - March 23, 2016 3:02 pm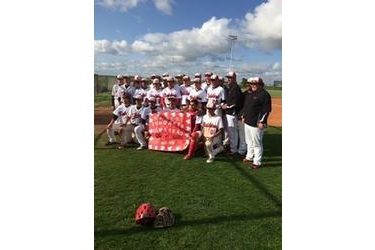 After making state for the first time since 1992, Liberal's baseball program enters the 2016 season with unlimited expectations. After an 18-5 season and a trip to 5A state at Wichita State, tenth year head coach Eric Olmstead has successful varsity experience everywhere he turns. Liberal loses two key players from last year's team in athletic outfielder Cristian Erives and lefty Zack White. But everyone else is back from a team which beat Andover and Goddard Eisenhower in Liberal to win the regional. Cole Evans and Jared Hasik return after first team all WAC honors last season.
Liberal has experience back on the mound where Sr. Jared Hasik, juniors Cole Evans and Kaiden Bigham, and So. Tucker Deaton. Sr. Angel Archuleta returns behind the plate while big targets Evans and Sr. Kaiden Long return at first. Senior Sylman Pando was Liberal's most consistent hitter last year and returns at second and short. Hasik returns at short where he has a great deal of experience. Sr. Stevie Lira and Bigham return at third. Sr. Tim Fitzgerald anchors the outfield in center while Sr. corner outfielder Jacob McCarter is a returning starter with speed. One of Liberal's biggest question marks will be solidifying the other corner outfield spot with Sr. Alex Carrillo, Evans, Sr. Dane Friederich, or freshman Cesar Burciaga. In relief, Long, Lira, and Fitzgerald are possibilities along with newcomers Fr. Alex Yanez, and Jr. Kaleb Wilmes.
Liberal has 40 out for baseball including a talented freshman class. Liberal has 20 players out of the 40 who can pitch.
Liberal opens at Hugoton Thursday at 4 with the home opener against Ulysses Tuesday at 4. The WAC and post season games air on 1270 and kscbnews.net. The WAC opener is April 5 at Great Bend.
Thursday, Mar 24, 2016
Doubleheader
4:00PM
Away vs. Hugoton
Hugoton High School
Tuesday, Mar 29, 2016
Doubleheader
4:00PM
Ulysses
Liberal High School
Tuesday, Apr 5, 2016
Doubleheader
4:00PM
Away vs. Great Bend
Great Bend High School
Saturday, Apr 9, 2016
Doubleheader
TBD
Away vs. Clinton
Clinton High School
Tuesday, Apr 12, 2016
Doubleheader
4:00PM
Scott Community
Liberal High School
Saturday, Apr 16, 2016
Doubleheader
1:00PM
Alva
Liberal High School
Friday, Apr 22, 2016
Doubleheader
4:00PM
Away vs. Colby
Colby High School
Tuesday, Apr 26, 2016
Game
6:00PM
Dodge City
Liberal High School
Monday, May 2, 2016
Doubleheader
3:00PM
Away vs. Garden City
Garden City High School
Friday, May 6, 2016
Game
6:00PM
Away vs. Dodge City
Dodge City Demon Field
Tuesday, May 10, 2016
Doubleheader
2:00PM
Hays
Liberal High School
Thursday, May 19, 2016
Regionals
TBD
Away vs. TBA
TBA
Thursday, May 26, 2016
State
TBD
Away vs. TBA
Wichita State University