Radio Bingo Numbers/Rules From Wednesday 7/10
KSCB News - July 11, 2013 5:50 am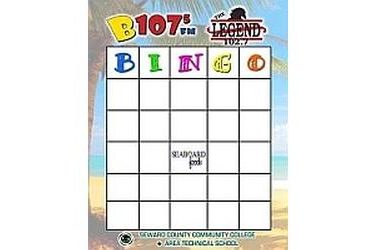 Radio Bingo Numbers from Wednesday 7/10: B13, I19, O63 & G53 REMINDER: this bingo game will go for TWO WEEKS (numbers given through 7/11) – claim bingos by 7/12 @ 5pm
BINGO RULES:
One win per person per week.
Once a card has a Bingo on it, it is no longer playable.
Numbers will be read on air Monday – Thursday, posted the following day.
All winning cards must be claimed by bringing them by the studios (1410 N. Western), faxing a copy with your name & address included to 624-7885, or emailing to [email protected] by 5p.m. Friday of that games week.
New games start each Monday.
Get your Radio Bingo Cards @:
Brown's furniture
Brown's Shoe Fit
Fashion Tree Boutique
Flooring America & Furniture Outlet
Girlfriends Flowers and Gifts
Keating Tractor & Equipment
Spa-lon by Girlfriends
Dematology Laser Center
Trailers and Trails
Guymon Furniture
Perryton Office Supply
Merle Norman in Guymon
Jeff's Carpet Service
Ruffino's
Tan It
Kartunz
Best Market
Flower Basket
El Kan Pharmacy & the Registry
Med Link Mobility
Peach Wave
PTCI
Pub on the Bricks
Auto Care & Tire Pros
Crazy House
Bisteca
Epic Touch
Liberal Springs
Little Ceasars
Burlap & Blossoms
Salty Dog
Southwest Fitness
Spencer Brownes
Squeaky Clean Car Wash
Vargas Cafe
Aquashield Roofing
Christine's
Optical 20/20