R.E.O. Concert Raises $60K For Mosaic
KSCB News - September 6, 2009 12:00 am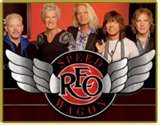 Last weekendź??s REO Speedwagon benefit concert raised more than $60,000 for Mosaic.
Over 3,600 people went to the event put on by Mosaic ź?? a non-profit organization that assists developmentally disabled residents of Finney County.
Organizers say the money raised this year was almost twice as much as what was made during last yearź??s Styx concert.
"The money that we raised here stays here in Garden City and a lot of the money will go to all the individuals who have special needs, things that aren't covered by other insurance providers and you know, that's what it will take care of, wheelchairs, and dentures, and things like that,ź?ť said Brian Schwindt, Mosaic community relations manager.
Organizers say they plan to throw another benefit concert next year.