Quintana Wins in Newton, Team Takes 3rd
KSCB News - October 6, 2014 8:10 am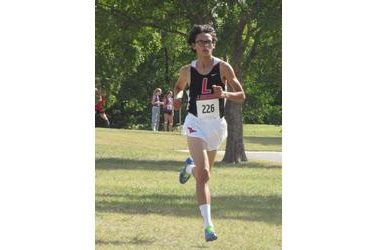 Liberal High School cross country traveled to Newton Saturday for the Newton High School Invitational cross country meet. Teams competing were Andover Central, Buhler, Dodge City, El Dorado, Goddard, Goddard Eisenhower, McPherson, Newton, Valley Center, Wamego, Washburn Rural, Wichita East, Wichita North, and Liberal. The meet had 5 races: a boys C team race, junior varsity girls, junior varsity boys, varsity girls, and varsity boys.
Senior Obed Quintana led the varsity boy's team. Quintana went with the race leaders and crossed the mile mark in 4th place with a 5:05 first mile. When the leaders started to slow their pace, Quintana made a move to the front and never looked back. Quintana finished the 5 kilometer course in 16:26 to win the race by 20 seconds. Quintana's time moved him to number 5 on Liberal High School's All-Time Record list and just 12 seconds from number 2. Junior Greg McClurg was the only other Redskin to crack the top 20 with a 13th place finish and a time of 17:28. Junior Alex Chance and Senior Ivan Aleman just missed the top 20 crossing the line in 21st and 22nd place with times of 17:48 and 17:49. Juan Beltran came in as the Redskins 5th runner earning 43rd place and running the course in 18:36. Junior Ryan Doll and Senior Jerry Valdez ran times of 18:48 and 18:54 with places of 52nd and 53rd. Quintana, McClurg, Chance, Aleman, and Doll all ran personal best times. The Redskins finished the meet with 99 points in third place. Newton received the team championship with 59 points, while Topeka Washburn Rural was second with 75 points. This marked the first time this season the Redskins were able to outscore WAC rival Dodge City who came in 4th with 105 points.
The varsity girls were once again led by the sophomore trio of Camryn Slatten, Saw Ahmara, and Yanelly Jurado. All three girls medaled with top 20 finishes. Slatten ran another personal best time, lowering her current record for fastest time ran by a sophomore at Liberal High School. Slatten completed the 4 kilometer course in 15:42 in third place, just two seconds behind the 1st place runner. Ahmara was 14th in the race with a time of 16:31, while Jurado ran a time of 16:40 in 17th place. Freshman runners Tania Minjarez and Kelsey Ramsey both completed the course in 17:52 as the 48th and 49th runners. Senior Allyson Nondorf ran a time of 18:17 good enough for 56th place, while Sophomore Karen Hernandez placed 61st with a time of 18:40. Slatten, Nondorf, and Ramsey all ran personal best times. The Lady Skins finished in 5th place with 131 points. Valley Center won the team title with 40 points, Dodge City second with 71, Wichita East third with 99, and Topeka Washburn Rural fourth with 129 points.
The junior varsity teams ran some great times that contributed to a total of 20 Redskin runners achieving personal best times on Saturday. Freshman runners Dusty Torres and Reyn Slatten both medaled in the junior varsity races. Torres placed 8th with a time of 18:28 in the boys race, while Slatten placed 4th with a time of 17:58 in the girls race.
The cross country teams will have a small break from action as their next competition will not be until October 16th as they travel to Hays for the WAC championships.