Pumpkins at the Park event Celebrates Co-op Month
Joe Denoyer - October 3, 2016 10:21 am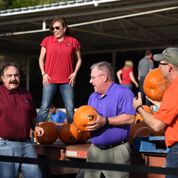 The east side of Thompson Park in Guymon will be covered in orange the evening of October 18 from 5:30 to 7 p.m. for the second annual Pumpkins at the Park event.
Panhandle Telephone Cooperative, Inc. (PTCI) and Tri-County Electric Cooperative (TCEC) are holding the free event to celebrate National Co-op Month. "Cooperatives Build" is the theme for this year's celebration, highlighting the many advantages cooperatives offer to their members and the communities in which they live and work. Nationwide, cooperatives create 2.1 million jobs and generate more than $650 billion in sales and other revenue annually.
Pumpkins at the Park promises fun for the whole family. Free pumpkins will be given to children for the decorating contest and families will enjoy fall photos, rides on the Lions Club train and free hot dogs, water and candy.
Pumpkin decorating begins at 5:30 p.m. and ends at 6:30 p.m. Decorating materials will be supplied. First and second place prizes will be announced for each age category at 6:45 p.m. Main Street Guymon volunteers will judge the contest in honor of Main Street Month.
"Because we serve much of the same customer base, it makes sense to come together as cooperatives to celebrate Co-op Month with those who support us," said Shawn Hanson, chief executive officer, PTCI.
TCEC Chief Executive Officer Zac Perkins said, "This is a fun way to show our appreciation for our members and celebrate the cooperative spirit."