PR's Abound for LHS in WAC Meet
KSCB News - May 14, 2010 12:00 am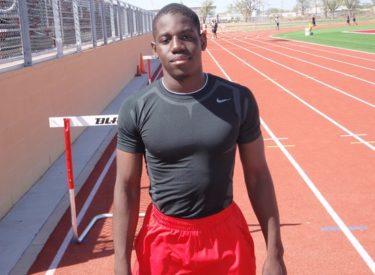 Liberal's boys track and field team put together maybe their best meet of the season at the WAC meet in Dodge City Thursday. Liberal had several PR's but just didn't have the numbers out for the sport to contend for the title. Ryan Cornelsen's Hays won the meet with 146 points. Great Bend scored 72, Liberal had 68, Garden City had 64, and Dodge City had 23. Liberal's first place winners are: Levondrick Martin (100), Adebayou Braimah (300 hurdles with a state best time of 39:02), and the 4×400 relay of Braimah, Martin, Michael Senna, and Isaac Gallegos. Liberal's second place finishers are: Isaac Gallegos (200 and 400), Morgan Riggs (1600), Justin McPhail (shot put), Akile Powdrill (discus), and the 4×100 relay of Gallegos, Senna, Braimah, and Martin. Morgan Riggs placed fourth in the 3200 while Arnold Dinh was fourth and the 4×800 relay was fourth.
The Great Bend girls won WAC with 99 points. Dodge City had 90 while Garden City had 89, Hays had 87, and Liberal had 10. Caitlin Bauer was second in the javelin and third in the shot put. Destiny Hall was 7th in the 800.
Liberal will host regionals next Friday with Great Bend, Hays, Ark City, Hutchinson, Bishop Carroll, Wichita West, and Winfield.