Proposed bylaw changes pass: 2022 TCEC Annual Meeting sees high turnout
Joe Denoyer - October 3, 2022 12:29 pm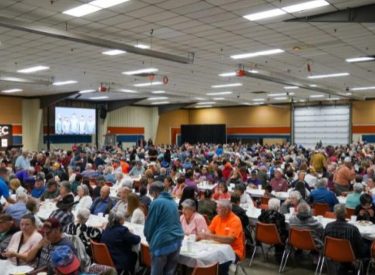 TCEC held its annual membership meeting on September 22 at the Texas County Activity Center in Guymon. The quorum of 5% of the membership, which is 600 members, was met during satellite voting by 1:30 p.m. In all, 1,443 members registered. Many of those members and their guests attended the meal and business meeting in the evening. The meeting opened with the presentation of colors by the Guymon Fire Department Honor Guard, followed by the national anthem sung by TCEC employee Travis Boyd.
TCEC Board President Shawn Martinez opened the meeting. TCEC's legal counsel Dakota Lamb introduced the trustees and reported the proposed bylaw changes voting results. Five proposed bylaw changes were before the membership as one item, and they passed with 1,316 yes votes and 57 no votes. After the business meeting concluded, TCEC gave away 30 prizes. TCEC member Dana Tomlinson won the $500 Visa gift card grand prize.
Those who missed the meeting can view the recording on our website at www.tcec.coop/22annualmeeting.