Prieto Status Hearing Continued
Joe Denoyer - September 19, 2018 11:25 am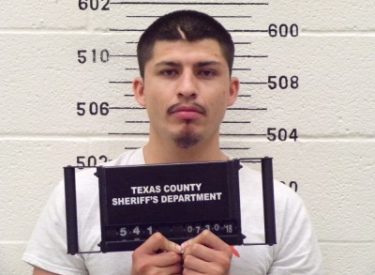 (Guymon Daily Herald)
A status hearing in the first degree murder case against Rodney Prieto has been continued to a date in October following a brief hearing on Monday morning.
Charges were filed against Prieto following a series of events on July 29 in which Prieto, along with Robert Prieto and Jesus "Freddy" Alfredo Alvarez Catalan engaged in a fight that left two men dead.
The deaths were the end result of an argument that started over the phone between Prieto and Catalan, allegedly centered around Prieto's treatment of the mother of his children. Catalan and the woman were in a relationship.
The woman and Catalan allegedly arrived at a residence on S. Lelia Street in Guymon where Rodney and Robert Prieto were, where the fight continued. There, it was alleged Catalan pulled a gun on the Prietos. At one point during the altercation, Robert Prieto allegedly retrieved the gun from the woman's vehicle and pointed it at Catalan's head.
As the fight continued to escalate, the Prietos allegedly argued over the gun and whether to shoot Catalan. After freeing himself from the pair, Catalan allegedly reentered the woman's vehicle, used it to hit Robert Prieto and dragged him until the car struck the porch of the residence and came to a stop.
Rodney Prieto allegedly took possession of the gun and shot Catalan. Catalan then exited the vehicle and stumbled into the street, where he collapsed. A search for Prieto was conducted after the incident, and was located after a tip was called in to the Guymon Police Department. He was taken into custody by a special agent with the Oklahoma Bureau of Investigation.
Prieto allegedly admitted to having a physical confrontation with Catalan, had witnessed Catalan hit Robert Prieto with the car, and shooting Catalan.
Prieto faces a single felony charge of Murder in the First Degree with Deliberate Intent. If convicted, Prieto faces a punishment of death, imprisonment for life, or imprisonment for life without parole.
A status hearing set for Sept. 4 has been continued to Oct. 16 at 9 a.m. Court minutes show Prieto appeared in person for the hearing with an assigned public defender.
Prieto is currently being held at the Texas County Detention Center without bond by court order.