Pregnant Ex-WNBA Star Dydek in coma After Heart Attack
KSCB News - May 20, 2011 10:27 am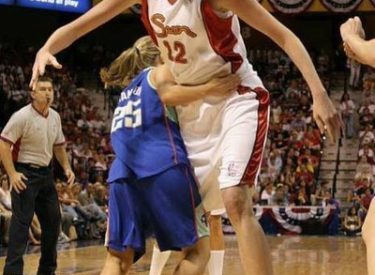 BRISBANE, Australia — Former WNBA player Margo Dydek, the sister of former Lady Saint Marta Dydek has suffered a heart attack and is in a medically induced coma in a Brisbane hospital.
Basketball Australia said Friday that the 37-year-old Poland-born Dydek suffered the heart attack on Thursday. She collapsed at her home in Brisbane and was taken by ambulance to a hospital.
Dydek, who is pregnant with her third child, had been working as a coach for the Northside Wizards in the Queensland Basketball League.
She was the No. 1 pick in the 1998 WNBA draft by the Utah Starzz. She also played for San Antonio, Connecticut and Los Angeles.
The 7-foot-2 Dydek was once said to be the tallest active professional female basketball player in the world.